EntroCIM powered by FIN Framework
IoT Warez, developer of IoT technologies, created EntroCIM, developed on top of
FIN Framework. EntroCIM is a fully-featured software suite with an application designed to make it easy to monitor and manage complex data center environments and provide insight into mission-critical equipment.

By providing metrics like Power Usage Efficiency, the EntroCIM DC solution puts key information in the hands of data center operators while ad-hoc reporting tools simplify decision-making for many key tasks. Analytical rules evaluate equipment to identify actionable insights and auto-generated reports warn of potential issues before they become critical. Detailed fault data can be linked to utility costs to predict recommended maintenance and repairs.
EntroCIM is compatible with all of today's common open protocols including BACnet, Modbus, SNMP, OPC and KNX and can integrate with existing Building Management Systems. Natively built on tagging methodology, EntroCIM also supports the latest Project Haystack 4 open standard.

In addition, EntroCIM provides full support for secure remote connectivity via J2's FIN Edge2Cloud to allow users to collect performance data and offer remote optimization and diagnostic services or upgrades and maintenance.
Why did IoT Warez choose FIN Framework?
FIN Framework gave IoT Warez the ability to bring new applications to market faster and develop better applications to control every aspect of the data center's infrastructure.
"EntroCIM DC was built to give data center managers and operators an open DCIM solution in a marketplace crowded with proprietary systems. The flexibility of the platform positions operators for success, whether solely as a DCIM tool or as a holistic Single Pane of Glass platform for total facility management."
Jason Houck, CIO, IoT Warez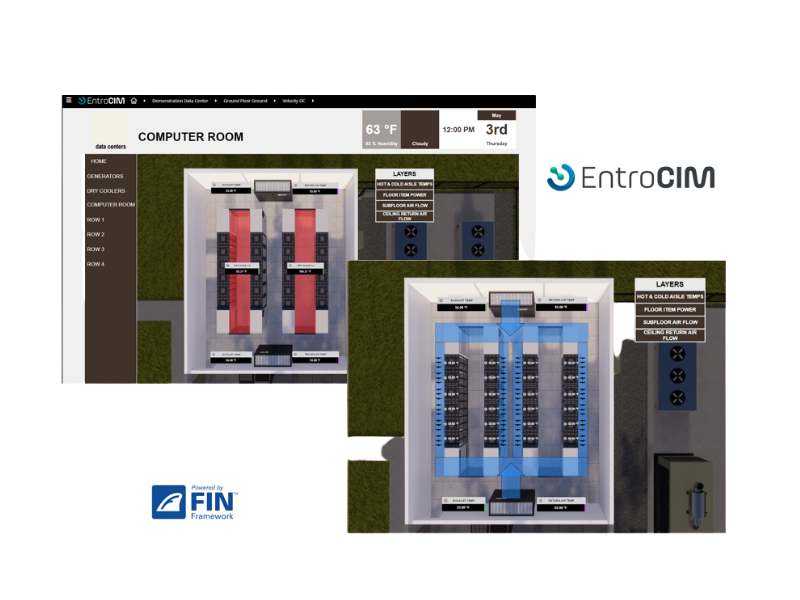 About IoT Warez
IoT Warez creates exciting new technologies for the Internet of Things industry, including software solutions built from the ground up.
Industry: Software
HQ:

Marine City, MI

Number of Employees: Up to 50