Blackstone Energy Services is an integrated energy services company that strives to deliver purposeful change for its clients by guiding large businesses, municipalities, and hospitals on their journey to net-zero carbon consumption. Based in Toronto, Canada, Blackstone approached J2 Innovations to discover how FIN Framework could become the future platform for both edge and cloud for their existing purpose-built energy analytics service called BlackPAC

™

.
By deciding to utilize J2's FIN Framework technology and expertise, Blackstone has been able to provide an improved BlackPAC

™

suite of products and services and provided their Research and Development (R&D) team with a platform that will enable them to implement new applications to meet specific customer requirements in future.
Blackstone chose FIN Framework because it met their key requirements which included:
Simplifying edge to cloud connectivity

Increasing speed to market

Offering simple site installation and commissioning

Customized dynamic dashboards providing optimal control over energy use and costs

Flexibility of hardware deployment

Potential for implementing control actions in addition to monitoring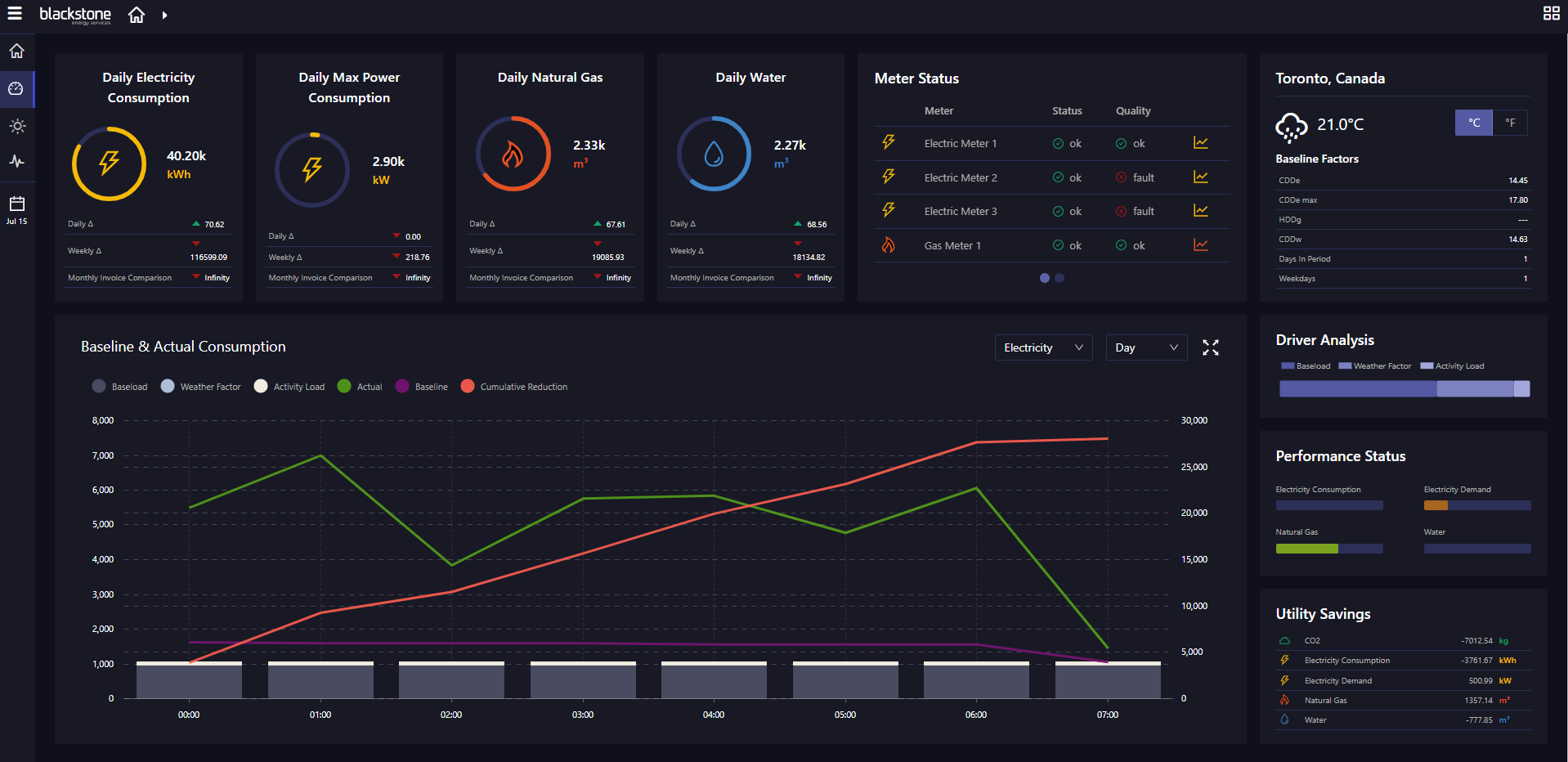 FIN Technology for BlackPAC

™
As FIN can be embedded on an Edge platform and hosted in the Cloud, J2 has provided Blackstone a solution that web serves dashboards from the enterprise and each site, with secure remote access, and a way to manage multi-site customers who want to see aggregated data with comparative analytics across all their sites, necessitating use of a cloud hosted instance FIN. FIN's Edge2Cloud technology is included in BlackPAC

™

, solving remote access and site-to-cloud connectivity issues, and, in addition, provides comprehensive user and device management for large multi-site applications.
As part of the enhancements Blackstone upgraded their edge hardware to a low-cost Lenovo fanless PC running Windows, which provides plenty of capacity for local data storage and the option to implement control functions as and when needed.
In the future, Blackstone will implement J2 Innovations' microBMS application suite to incorporate into their BlackPAC

™

Energy-as-a-Service solution for Vehicle-to-Grid, Distributed Energy Resource Management, Demand Management and Automated Optimization. This technology uses step-by-step wizards to simplify installation and commissioning processes, for a "plug'n'play" installation.
Custom Dashboards
The end user experience will be enriched with new customizable dashboards, implementing sophisticated rules-based analytics and fault detection diagnostics to maximise operational efficiency as well as minimizing energy usage for the building or system.
Blackstone required new custom dashboards with appropriate logic to replicate the dashboards in their existing product. New additions included solar, utility and ICI demand response dashboards. These new in-depth visualizations were built by the expert FIN team, and a step-by-step wizard was created to simplify existing site inclusion using templates.
The custom dashboards offer new and existing customers of BlackPAC

™

high quality, intuitive real-time data analytics, reporting capabilities and visibility across all connected utility and building systems.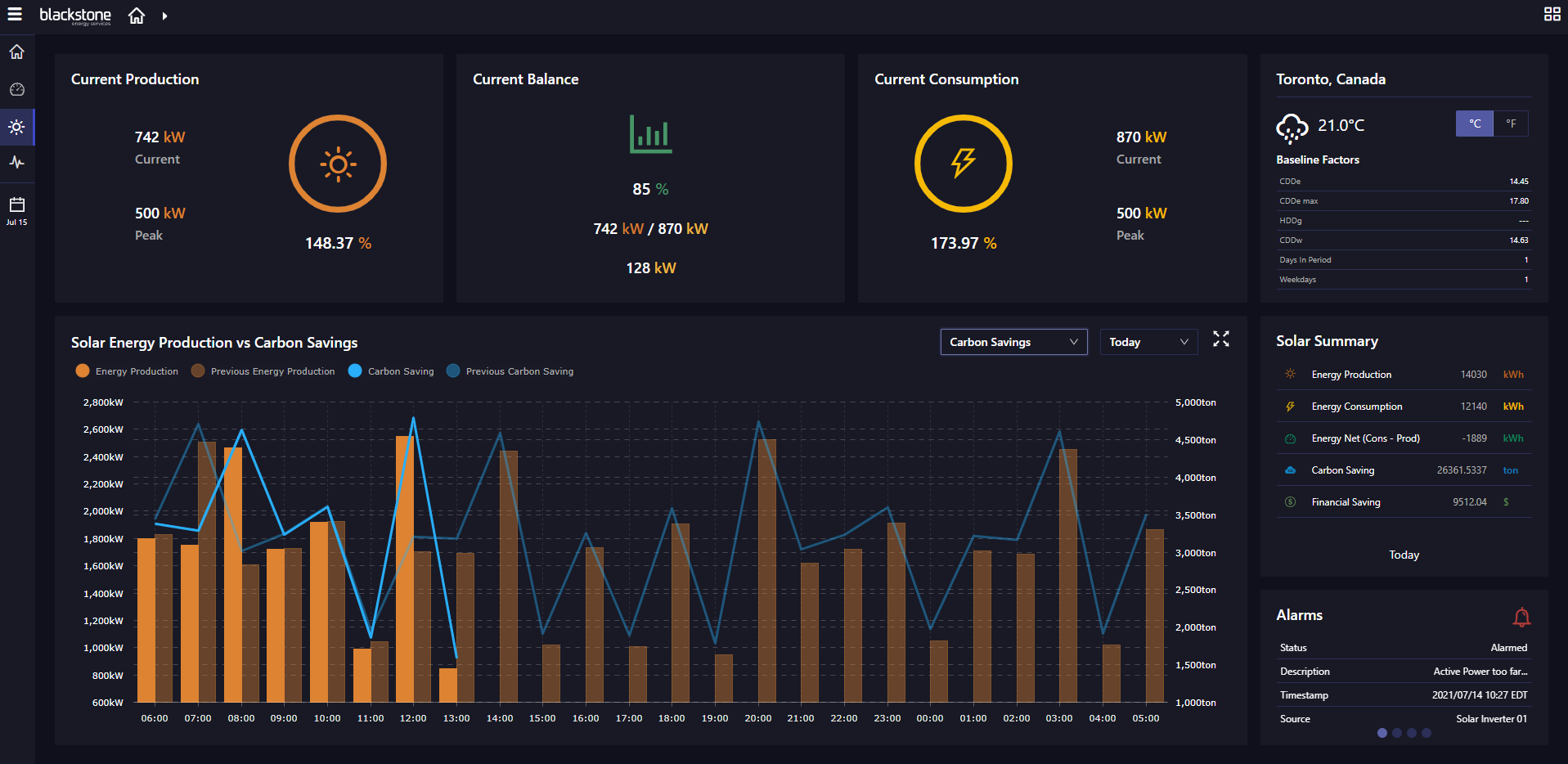 The result
Powered by FIN Framework, Blackstone's BlackPAC

™

is ideal for smart buildings and smart grids and is a fully distributed, scalable and secure enterprise energy management solution. BlackPAC

™

is the ideal platform to manage energy information, building system performance and distributed energy resources. BlackPAC

™

integrates with existing systems to perform analytics and controls using open interoperable edge IoT technology.
BlackPAC

™

can now present energy and building data on intuitive web-based dashboards. Data within the BlackPAC

™

solution can be used to manage distributed energy resources, set consumption alerts, fault detection, run detailed analytics on building or portfolio performance and manage complete real-time reporting. Further integration with other data sources such as budgets, forecasts and utility billing are easily achieved to improve visibility and decision-making.
About Blackstone Energy Services
Blackstone helps clients save, sustain, and thrive by developing custom energy management solutions for cost and consumption improvements, conservation and efficiency, carbon advisory and renewable generation. We're driven by a greater aspiration for environmentally responsible energy consumption, one that's good for the planet and protects our clients' bottom lines.
Industry: Energy Management
HQ:

Toronto, CA