They say an Englishman's home is his castle, but what about those in New York? Although not the usual use case for FIN Stack, the Mansion is a high-end residence with multiple zone and spaces to be managed, controlled, and optimized for the comfort of its occupants. By choosing FIN Stack, TEC Systems was able to meet customer requirements and exceed expectations.
What were the challenges?

TEC Systems took management of the building in 2018 and immediately got to grips with the customers challenges. Wall mounted iPad tablets were used throughout the home to operate an existing Niagara-based front-end. The occupants found the thermostat UI too slow and cumbersome and needed an interface that was easy to use and provided the relevant context for that zone. They needed to be able to adjust the thermostat temperature across the various zones, quickly and easily.


Finding FIN


TEC Systems came across FIN Stack (FIN) and were immediately drawn to its capabilities to simplify navigation for the end user. It was the perfect fit for the project as the team could easily build components using javascript, html and css. Converting the existing system to FIN was simple by being able to pull in points in a matter of days.

As part of the FIN-based solution, TEC Systems also:
Reduced complexity of the system by nesting unnecessary mechanical equipment pages
Created a responsive User interface using components built in FIN for real time data and feedback
Utilized iOS's Guided access mode in combination with FIN's mobile responsiveness
Created a separate user flow for more mechanically inclined users to see the bulk of the equipment running in the background
Fixed problems with existing Niagara integration because of the work needed in tagging all the points and understanding the points relation to the equipment on the Supervisor level.
The result
The result of the project was a system that all users could easily control via touch-friendly interfaces on the existing iPads. The interface looks and feels like a native iOS application with small touches, like making the iPad screen dimmable when not in use, making a unique solution that saves energy too.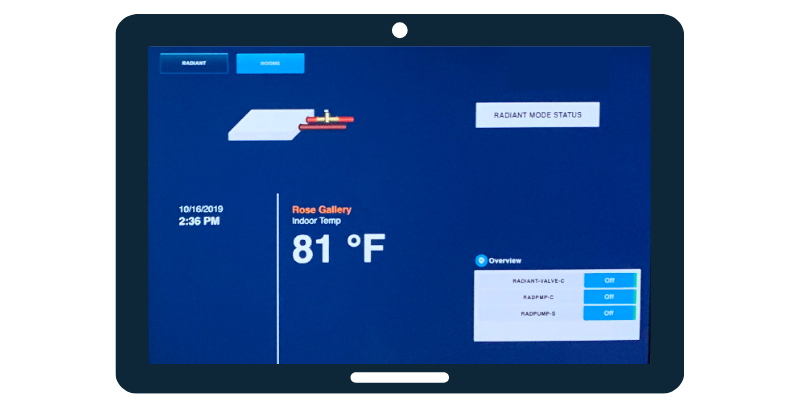 " FIN Stack was the perfect fit for this project as it has so many features to help simplify user navigation. Building out the User interface to ensure ease of use was simple because of how equipment and context works in FIN. Creating a handful of templates and then utilizing those throughout the project made it super simple to make sure the user had control over 20 spaces in the home. The success of this project has definitely influenced a lot of our projects and I will be recommending FIN for them!"

Saif Chowdhury, UX Engineer, TEC Systems
About the Mansion
Reducing complexity at a high-end New York Residential home


Industry: Residential
Number of zones: 20