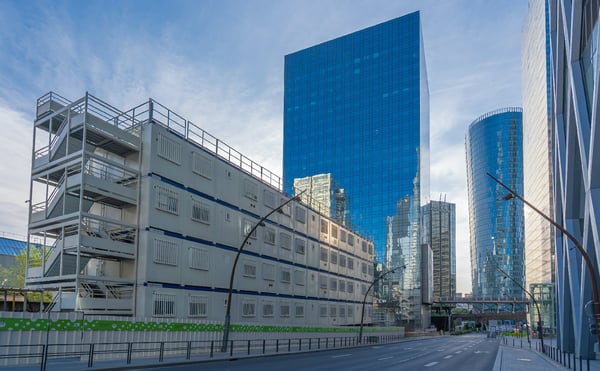 How to Develop Your Next Generation FIN Based Product with the KNX Connector
According to Fortune Business Insights, the global modular construction market size was valued at $67.4 billion in 2019 and is projected to reach $106.22 billion by 2027*. Prefabricated construction, a manufacturing process where the walls, roofs, floors, and modules of a building are built off-site in strictly regulated environments, offers many advantages compared to traditional construction methods.
Explains Chris Irwin, Vice President Sales EMEA & VP Global Marketing J2 Innovations:

"Modular building solutions have been gaining broader interest. By taking construction off-site and into the factory significant savings can be made. Waste is reduced and build times accelerated. Prefabricated buildings can be more cost-effective, sustainable and versatile. Modular building projects can be built some 30-50% more quickly when compared with traditional methods. Time, ultimately, is money and prefabricated construction saves a lot of time."

Irwin continues:

"Modular buildings also adopt the latest advanced manufacturing techniques and eco-solutions such as built-in plumbing, mechanical, solar panels, energy and control systems which will be shipped and assembled on site. As the market matures, there will be more opportunities for building-OEMs to pre-fit controls prior to shipping – akin to creating flat-pack buildings with pre-installed intelligence."
In this scenario, building contractors arrange for the pre-installation of controls inside rooms, modules or zones. With the building assembled and control modules inter-connected, the use of smart building management (BMS) software would facilitate rapid system set-up - automatically discovering all the controls in a building on start-up.
A microBMS for prefabricated construction
J2 Innovations (J2) is a leading software platform company and creators of FIN Framework (FIN); an innovative open framework for smart buildings, smart equipment and IoT. They have recently created an application suite based on FIN called microBMS. This is an entry-level BMS system that enables OEM partners to develop easy to deploy solutions for efficient building management. Modular in design, FIN microBMS is ideally suited for the creation of control systems for prefabricated buildings.
"Prefab designs are about removing complexity. By smart use of device templates, software like FIN microBMS can auto-generate a full system, including control logic, alarms, graphics and operational documentation," Irwin adds.
An integrated solution to manage lighting, HVAC, and utility metering can be built with numerous connectors available for seamless integration of KNX, BACnet, and Modbus devices. The Haystack open standard makes information self-describing for a range of applications.
J2's latest Edge2Cloud capability provides operators with a highly secure remote connection to the microBMS for accessing building data, servicing and upgrading of the system. Sites can be deployed and very easily connected to the cloud in minutes via web registration using QR codes.
Discussing the future, Irwin predicts:
"The prefabricated building market is ripe for innovation. Adding automated controls while integrating sophisticated new technologies is going to streamline the installation and commissioning processes, saving energy, labor and resources."
Press contact: Jenny Evans