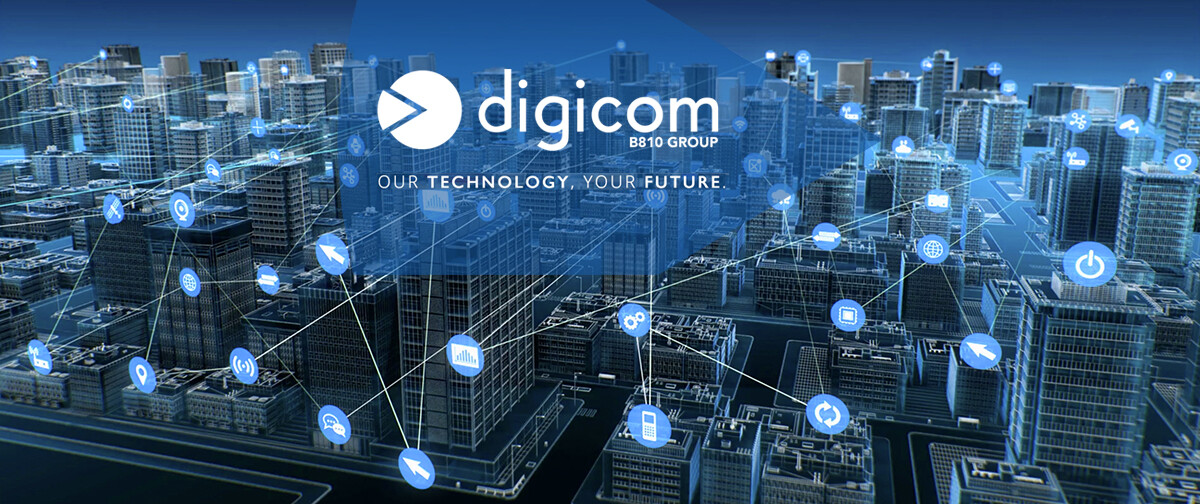 Italian version follows English


Leading Italian energy, IoT and controls specialist, Digicom will utilize FIN Framework (FIN) software in their edge controls portfolio

Collaboration includes their new 'Digicom Framework' and embedded hardware options

Technology will be a next generation portfolio for smart cities, buildings and IoT
Leveraging J2 Innovations' (J2) FIN Framework, an open customizable software framework for smart buildings, smart equipment and IoT, Digicom will launch a next generation portfolio with the offering including their own leading edge, IT and IoT software and hardware products. Called 'Digicom Framework', FIN will enable Digicom to connect, manage, analyze, display and control building and asset data in diverse edge applications, while providing native and secure cloud access thanks to J2's Edge2Cloud technology.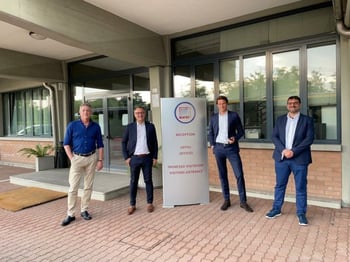 The new portfolio will be aimed at applications such as building management including energy management, HVAC, equipment optimization, and renewable energies monitoring, water distribution metering and leak detection, and space management, enabling Digicom to meet a variety of customer challenges and future requirements.

Being a FIN Framework-based solution, Digicom Framework will be natively built on tags, supporting the latest Haystack open standard 4. The software provides an intuitive user-experience, intelligent data management and analytics, simplified workflows and shares data to the cloud or other IT systems, via an IoT interface.
Image above - L to R - Luca Rapone, Unit Manager Smart City, Riccardo Pedroni, CEO Digicom , Alex Rohweder, CEO J2 Innovations, Domenico DI Canosa, SEE Director, J2 Innovations
Domenico di Canosa, Sales Director, J2 Innovations: "We are excited to welcome Digicom as our OEM partner. They have the presence and the power to serve the growing IoT oriented smart building and smart city market with appropriate hardware platforms, from OEMs to end users, from property and facility management companies to maintainers, and system integrators through to energy managers. This collaboration is particularly exciting as it involves leveraging the full power of our software and Digicoms' large hardware portfolio. Together, we are meeting a variety of industry needs in a revolutionary one-stop-shop!"

Luca Rapone, Business Unit Manager, Digicom. "Our company was born out of bringing cutting-edge solutions together. In combining J2's software and knowledge with our own, we are creating something very special for our customers who work in a complex industry that is under increasing pressure to meet targets like reducing the energy consumption of buildings and cities. Our work with J2 stays true to our mission to develop innovative technology to improve daily life."
About Digicom
Digicom is a B810 group company active since 1977 and counting overall more than 300 employees from R&D, software development and hardware manufacturing, sales and post-sales support, with over 40 years of experience in the electronics manufacturing, connectivity and IT. B810 has electronic manufacturing sites in Italy and Albania.

Italiano:

Digicom®, parte del gruppo all'avanguardia tecnologica B810, è il prossimo OEM partner ad usare FIN Framework di J2 Innovations


Digicom, leader italiano nel settore dell'energia, dell'IoT e dei controlli, utilizzerà il software FIN Framework (FIN) nel proprio portafoglio di controlli EDGE.

La collaborazione include il nuovo "Digicom Framework" server e le versioni hardware embedded

Questa tecnologia coprirà il portafoglio di offerta della prossima generazione di città ed edifici intelligenti e per l'IoT
Sfruttando FIN Framework di J2 Innovations (J2), un software personalizzabile ed aperto per edifici, apparecchiature intelligenti ed IoT, Digicom lancerà il proprio portafoglio di controllo e gestione di prossima generazione con una offerta che include prodotti software e hardware all'avanguardia, IT e IoT. Sotto il nome "Digicom Framework", FIN consentirà a Digicom di connettere, gestire, analizzare, visualizzare e controllare i dati di edifici e risorse in diverse applicazioni edge, fornendo al contempo un accesso cloud nativo e sicuro grazie alla tecnologia Edge2Cloud di J2.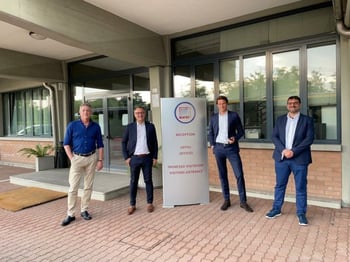 Il nuovo portafoglio soluzioni sarà rivolto ad applicazioni come la gestione degli edifici, compresa la gestione dell'energia, HVAC, ottimizzazione di apparecchiature e monitoraggio delle energie rinnovabili, misurazione della distribuzione dell'acqua e monitoraggio delle perdite, gestione degli spazi, consentendo a Digicom di soddisfare una vasta varietà di sfide e requisiti futuri dei clienti.

Essendo una soluzione sviluppata su FIN, Digicom Framework sarà nativamente basato su tag, supportando l'ultimo standard aperto Haystack 4. Il software fornisce un'esperienza utente intuitiva, gestione e analisi dei dati intelligenti, flussi di lavoro semplificati e condivide i dati sul cloud o altro Sistemi informatici, tramite un'interfaccia IoT.
Image above - L to R - Luca Rapone, Unit Manager Smart City, Riccardo Pedroni, CEO Digicom , Alex Rohweder, CEO J2 Innovations, Domenico DI Canosa, SEE Director, J2 Innovations
Domenico di Canosa, Direttore Vendite, J2 Innovations: "Siamo entusiasti di dare il benvenuto a Digicom come nostro partner OEM. Digicom ha la presenza e la capacità di servire il crescente mercato degli edifici intelligenti e delle città intelligenti orientati all'IoT con piattaforme hardware appropriate, dagli OEM agli utenti finali, dalle società di gestione, i manutentori, gli integratori di sistema fino ai gestori dell'energia. Questa collaborazione è particolarmente entusiasmante in quanto implica lo sfruttamento completo della potenza del nostro software e dell'ampio portafoglio hardware di Digicom. Insieme, potremo soddisfare la più vasta varietà di esigenze del settore con un rivoluzionario approccio one-stop-shop!"

Luca Rapone, Business Unit Manager, Digicom. "La nostra azienda è nata dalla necessità di creare soluzioni all'avanguardia. Combinando il software e le conoscenze di J2 con le nostre, stiamo creando qualcosa di molto speciale per i nostri clienti che lavorano in un settore complesso e sotto la pressione di raggiungere obiettivi di gestione e controllo sempre più stringenti, come ad esempio, ridurre il consumo energetico di edifici e città. Il nostro lavoro con J2 rimane fedele alla nostra missione di sviluppare tecnologie innovative per migliorare la vita quotidiana di ogni uomo."
A proposito di Digicom


Digicom è una società del gruppo B810 attiva dal 1977 e conta complessivamente più di 300 dipendenti tra ricerca e sviluppo, sviluppo software e produzione hardware, vendita e supporto post-vendita, con oltre 40 anni di esperienza nella produzione di elettronica, connettività e IT. B810 ha siti di produzione elettronica in Italia e Albania.