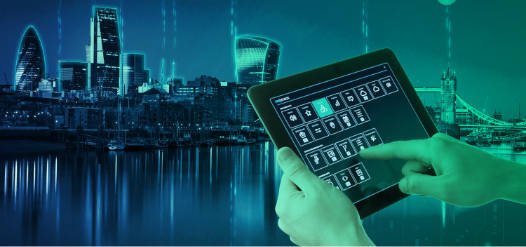 J2 Innovations release their ready to use supervisory & control software framework FIN Stack for UK & Ireland market
FIN Stack, based on J2 Innovations' FIN Framework software (FIN), is specifically aimed at system integrators that need simplified building management solutions
FIN Framework is already available from several OEM partners. Now FIN Stack is available through UK-based distributor ControlsPlus Solutions
Being based on FIN, FIN Stack, has a range of advanced features such as dynamic dashboards and Edge2Cloud technology for secure remote access
Managing every aspect of building automation without complex or costly engineering effort has reached the next level with the introduction of FIN Stack, J2 Innovations' ready-to-use software, in the UK and Ireland. Previously FIN Stack has only been available in the North American market via a network of distributors. System integrators (SIs) in the UK and Ireland can now access the product via UK-based automation specialist, ControlsPlus Solutions, who have experience supporting and training SIs with Building Management System (BMS) software. Making FIN Stack available in the UK & Ireland market increases the choice SIs and specifiers have when selecting a solution for their projects, and complements what J2 Innovations' OEM partners are already doing by bringing FIN Framework to the market under their own brands.
With a mission to simplify smart buildings, J2 Innovations brings a wealth of knowledge and expertise to building automation software. Based on FIN Framework, FIN Stack was born out of the need to have powerful, easy-to-use software that could be integrated quickly into building systems. The core software offering is used in a range of smart buildings, smart equipment, and IoT applications.
FIN Stack is an open framework which simplifies smart building management and provides integration, control, analysis, visualisation, and connectivity. It includes a comprehensive suite of ready-to-use apps, enabling integrated BMS solutions to be engineered quickly and easily.
FIN Stack allows users to monitor, control and visualise all the operational and energy assets such as HVAC, metering, lighting, and security systems inside a building or buildings across numerous sites to optimise the comfort levels and energy efficiency. Easily configured dashboards provide a simple way to manage key parameters, while the 2D and 3D graphics libraries enable rapid creation of custom equipment graphics. Throughout FIN Stack the use of wizards, and the fact that it is natively based on the Haystack tagging and data modelling standard, combine to hugely reduce the engineering time required to deliver a working system. Plug'n'play features also simplify the installation of any pre-configured hardware solutions. FIN Stack supports BACnet, Modbus, KNX, OPC-UA, MQTT and other open protocols for linking to almost any system.
Natively built for semantic tagging with support for the Project Haystack 4 open standard, FIN Stack provides an intuitive user-experience with intelligent data-management, analytics and simplified workflows.
"In North America, FIN Stack has established itself as one of the industry's most innovative building automation software platforms. We are delighted to now bring this to the UK and Ireland as an "out-of-the-box" offering to make life easier for system integrators, consultants and end users." said Chris Irwin, VP Sales EMEA at J2 Innovations. "With FIN Stack, there are a host of built-in tools for a simplified approach. FIN brings something new to the market because it is natively based on Haystack tagging. As well as its powerful integration capabilities, the graphics and dashboard apps are touchscreen and smartphone friendly. We don't believe there is any competitor on the market that can offer the same benefits as FIN Stack to system integrators."
In addition, J2 Innovations also offers world-class and flexible training programmes to enable system integrators to get up-to-speed quickly with FIN Stack. The online 'FINstitute' learning campus provides a very flexible way for system integrators to get familiar with implementing and using the software through online courses run by experienced trainers.
FIN Framework is already used by a variety of system and equipment manufacturers worldwide, involved in BAS, HVAC, lighting, shading, and IoT control in buildings.
Chris Irwin sums up: "Just by comparing the feature sets alone FIN Stack is the most complete open distributed framework in its class. In terms of openness, ease of use and licensing options it's peerless - no one can match it without additional programming or costs being added to their solutions."
Find out more about FIN Stack in the UK: j2inn.com/finstack-uk
Media contact: Jenny Evans