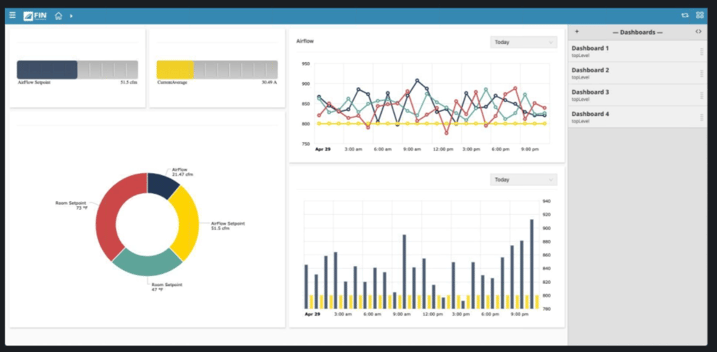 With the launch of FIN 5.1 in the Summer, a FIN Framework dashboard app will be available. But what is the app and what impact will it have on those engineering and using FIN Framework? One of the development testers involved in the app, Ricky Villa Valle, explains all..
What is the dashboard builder app?
J2 Innovations created the app to enable the creation of customized dashboards for FIN Framework data that is viewable on a PC and tablet but is also smart phone friendly. The flexibility that this provides our customers is enormous. Dynamically accessing your data from a range of platforms is unmatched, especially in the building automation industry, but this is equally important for those in smart equipment and IoT spaces.
What can the dashboard builder app do?
When you open the app, you can select from a range of grid layouts depending on your viewing preferences. Once selected, it is simple to add and remove a range of 'widgets' that we have preconfigured for you. If a widget you need is missing, we will be happy to create one for you, although we are confident that our current list is comprehensive! However, we are working on a customizable database of dashboard builder widgets so customers can create their own – this is coming soon.

Widgets available with 5.1 release will be:
History – create a snapshot of historical data of anything in your software – anything that has collected data can be added

Value – a simple text label of a value

Value gauge – a visual list of gauge components for those that like a little more than just a text value

Graphics – add your graphics and its data

Weather – add location weather data

Table – present a range of data in table format

Map – add a visual map of locations and data
When we started looking at the widgets for the app, we made sure to research what data would be useful to compare and contrast on a dashboard. For example, the ability to compare local weather conditions with temperature values within a zone, floor or building with a quick glance of a dashboard is powerful data to have at your fingertips.
What are the benefits to the customer – whether an developer or end user?
My favourite aspect of the app is how smart phone friendly it is – even if the dashboard is created on a desktop it will dynamically fit on a smaller device such as a mobile with no reengineering required. This is crucial for our smart phone dominated lives – getting access to your data on the go is a must-have. Simply having all aggregated data on one dashboard can help users make key decisions about their buildings, sites and equipment- this can ultimately help them save time, money and resources.

Once created, your dashboard can also be replicated across different instances within a project which reduces duplication of effort and provides a consistent, bespoke outlook. The team are also working on a dashboard access filter that will come in a later FIN Framework build – this will allow users to toggle access to different dashboards to other users.

Significantly, the dashboard builder app can also be used within our Edge2Cloud technology – users can create dashboards and view them in Edge2Cloud if required.
What's the future for the app?
As well as the additions mentioned, we are looking at adding a video widget into the dashboard app so that a live video feed of some locations will be available. We are also looking at allowing dashboards to be saved as templates so they can be used in different projects.
If you could you sum up the app in three words, what would they be?

Quicker, smoother, and flexible – for both developers and end-users! I'm very excited about the app and the positive impact it will have on those using it.


Find out more about the dashboard builder app and all the benefits of FIN 5. 1 here.