Today's buildings have many connected and intelligent devices across multiple subsystems. The good news is that many of these systems communicate utilizing open protocols. The challenge is devices and controls are siloed into verticals (think of lighting, energy, HVAC), each having separate ways of accessing their data. Integration of these silos is costly and time-consuming. There are a couple of approaches to bringing these systems together. Let's examine the first architecture.
Traditional building automation is architected with sensors and actuators at the lowest level that then become combined or wired to controllers. As the size and complexity of the system grow, the controllers become part of a network management system that includes potential gateways performing protocol translation or physical layer conversion. Ultimately, the aggregation of these devices and the information they contain need to be orchestrated using a supervisory device or application. This enables relatively normalized data to flow up through the architecture and commands/control to flow down to the devices and actuators. As time passed, additional services and benefits of connecting these systems to the cloud emerged.

This architecture is reproduced repeatedly as we look at a typical building that contains HVAC, lighting, metering, power, security, access control, and other subsystems.
Challenges
With these subsystems vertically standing alone, a typical facility manager's office looks more like a NASA command center with multiple monitors, applications, and workstations.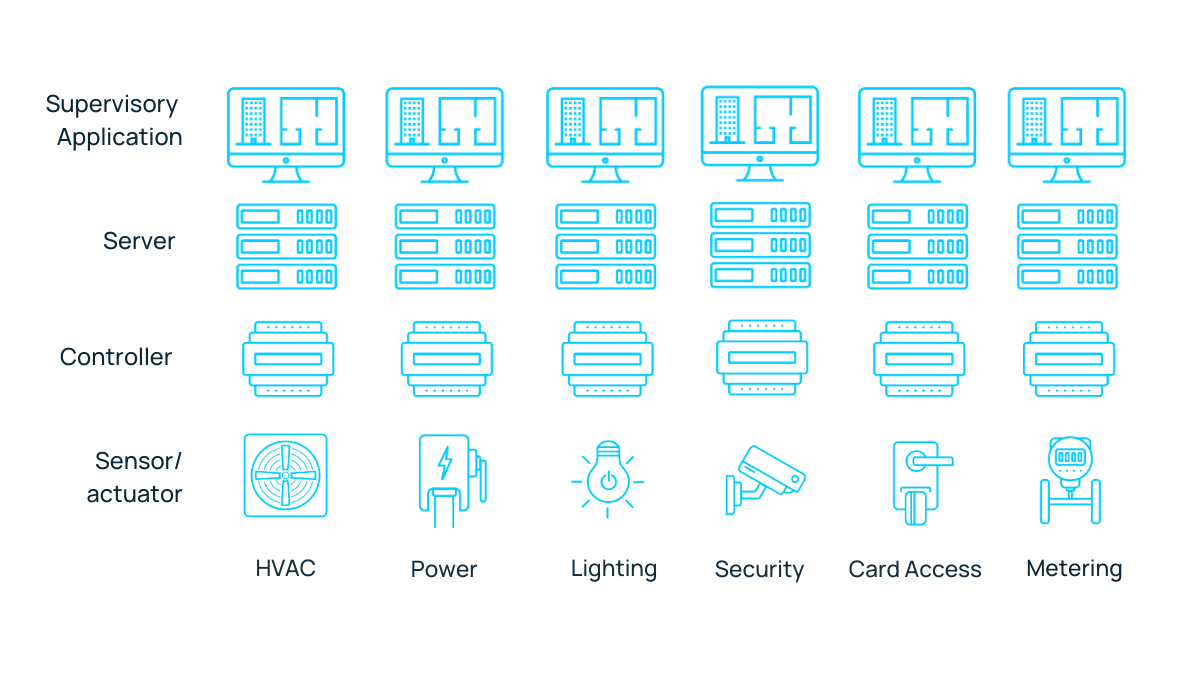 SINGLE PANE OF GLASS
In recent years, the buzzword Single Pane of Glass (SPoG) has become popular to help bring together these user interfaces into a more unified, single application. Although this is now possible with products on the market, the scope and features of applications needed by building owners can vary and often don't have as many features as a dedicated application.
MULTIPLE KILLER APPLICATIONS
The other side of the coin is finding the best application for managing the unique aspects of a building, but then comes the challenge of getting the data needed to feed that application. Here lies the challenge of multiple integrations to multiple applications. The problem multiplies.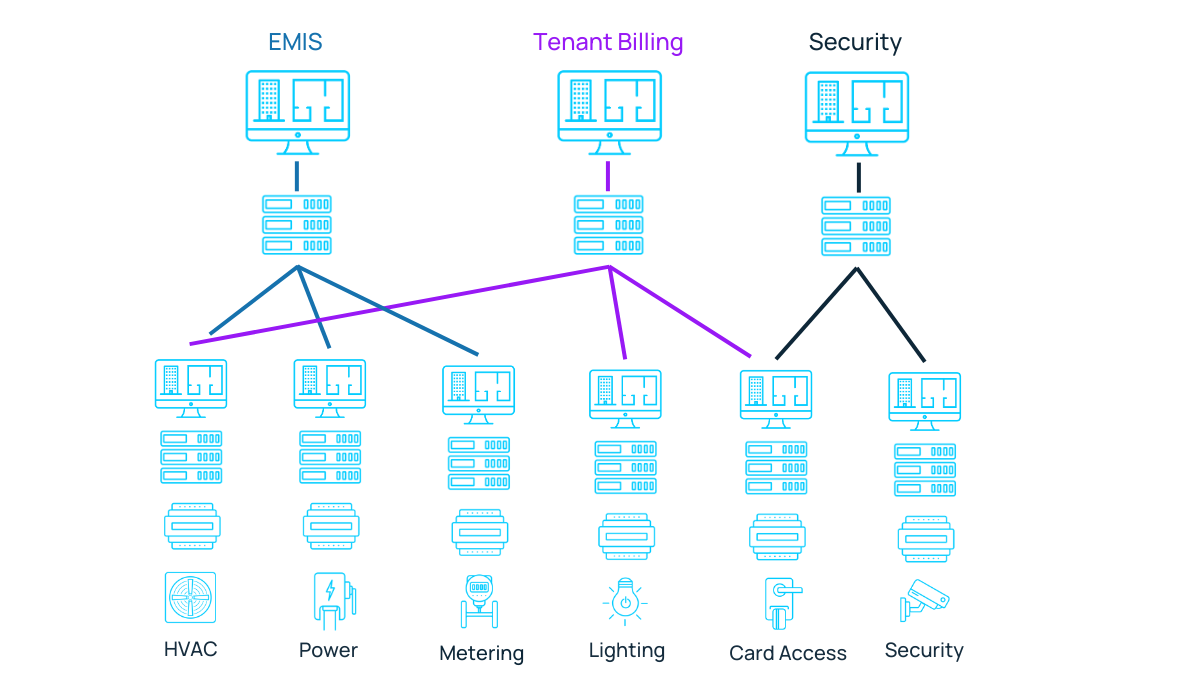 REAL-LIFE EXAMPLES
For example, in a traditional HVAC building automation system, the sensors and actuators are wired to the controllers. Fortunately, much progress has been made to provide standardized protocols at the device levels, such as BACnet. The good news is that these can be provided by multiple manufacturers and still provide interoperability and compatibility for the information. The sensor and controller story is similar as we move to another silo, such as lighting or power monitoring. Still, different open protocols prevail, such as DALI for lighting and MODBUS for power.
As we take a holistic view of the many subsystems in a building, solutions that deploy gateways and supervisory controllers have been a good option to begin unifying these disparate subsystems by speaking multiple protocols and normalizing the data to some common model. Some examples would be Tridium's JACE running the Niagra Framework and J2 Innovations' F200 running the FIN Framework. These devices often provide the added benefit of converting physical network layer differences to a standard IP/LAN network.
Solving the challenge of siloed systems in smart buildings has been difficult, but in this blog, we have identified the major layers found in traditional architectures. There has been some success with solutions that have presented a Single Pane of Glass (SPoG) and painstakingly brought together multiple applications. In our next blog post, we will look at a new approach where the architecture is viewed in a more horizontal mindset and will address the new capabilities that come with that approach.