It's estimated that 80% of commercial buildings have no BMS installed, which means they lack visualization and control of their energy usage. There's a huge need to address the commercial buildings operating without BMS. J2 Innovations' FIN Framework is here to help seize this market opportunity and drive toward a better, more sustainable future.
J2 Innovations is on a mission to make smarter buildings, smarter equipment, and smarter IoT solutions available and easy to use for OEMs, system integrators, facilities managers, and end-users. To do that, we join forces with ecosystem partners to accelerate the design, build, and delivery of their own smarter products and services by leveraging our FIN™ Framework to create an undeniably valuable offering.
We're excited to showcase a wide range of smart technologies - including FIN Stack - at the Smart Buildings Show. FIN Stack is a flexible system for managing complex buildings, created with simplicity in mind and is powered by FIN Framework technology. Its supervisory functions simplify workflows and provide the full flexibility of an engineered Building Management System (BMS). It can integrate all disciplines in a building while providing maximum efficiency in engineering and maintenance.
Siemens
J2 Innovations' parent company, Siemens, is presenting to the UK market Desigo Optic - a next-generation mid-market BMS powered by FIN Framework technology. Leveraging the FIN Supervisory & Control application suite, Desigo Optic includes standard building automation and BMS functionalities ideal for this growing market.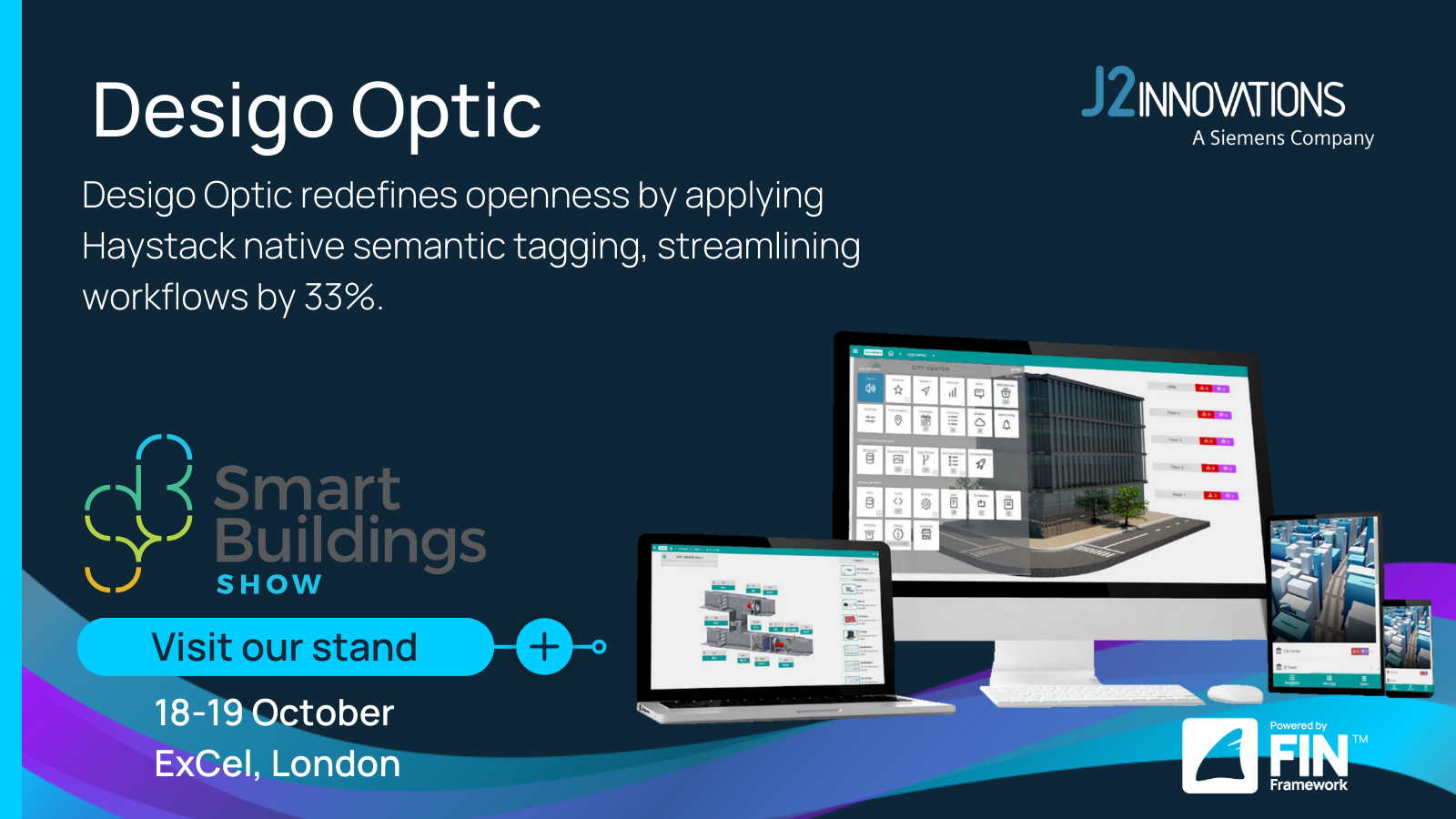 ''What matters to our customers is the speed of integration, ease-of-use in engineering and bottom-line value from data. J2 Innovations' FIN Framework provides the right answers with state-of-the-art software architecture and user experience,'' said Henning Sandfort, CEO of Building Products, Siemens Smart Infrastructure.
The visitors can learn more about Desigo Optic by visiting Siemens stand number D11.
Innon
Another example at the Smart Building Show is a new product launched at the event – Link Edge by J2 Innovations' new partner, Innon (stand number D28). Powered by the FIN Framework, Link Edge is not just another product; it's an innovation in energy monitoring. What sets Link Edge apart is its Plug&Play capabilities, streamlining the installation and setup process.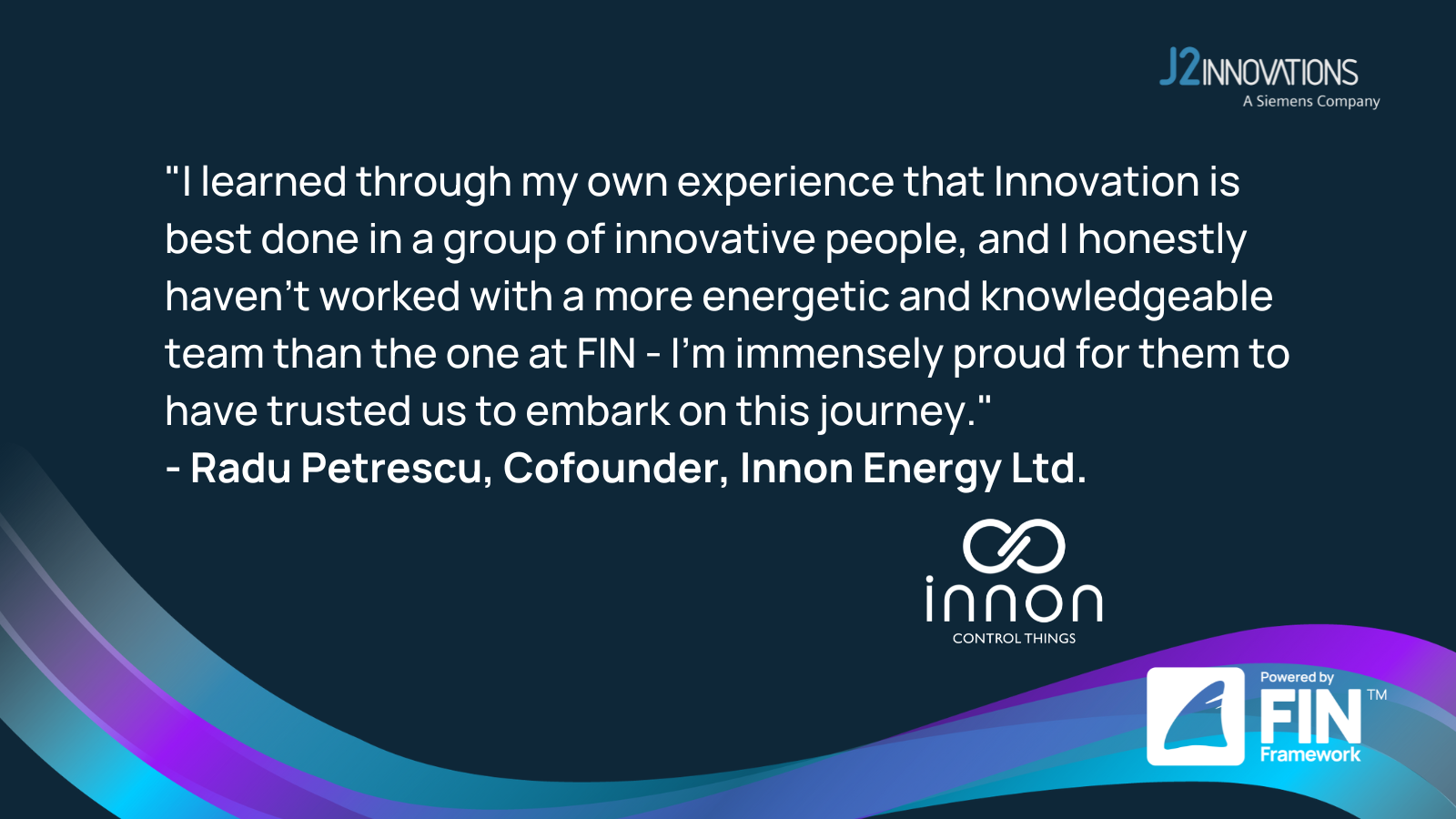 Businesses and users can effortlessly integrate it into their existing systems without requiring extensive configurations or technical know-how. As regulations and energy standards continue to evolve, having a reliable and easy-to-use energy monitoring solution becomes paramount. Link Edge, with its cutting-edge technology, ensures that businesses can keep a close eye on their energy consumption patterns, making it easier to comply with regulations and optimize energy use.
Moreover, its wireless connectivity makes it an ideal choice for retrofitting, allowing businesses to upgrade their current systems without a complete infrastructure overhaul. Given Innon's reputation as a trusted BAS distributor, the introduction of Link Edge is anticipated to be a game-changer, offering a simple yet effective solution for energy monitoring. It's not just about monitoring; it's about doing it efficiently, effectively, and in compliance with the latest standards. And with Link Edge, Innon promises to deliver just that - a solution that's easy to use, install, and sell to their existing and potential customer base.
"In the current landscape where sourcing engineers is challenging and achieving economies of scale is imperative, the pivotal elements for successfully implementing distributed monitoring are scalability, remote configuration, and secured cloud data access," says Alex Rossi, Technical Director, Innon Energy Ltd.
Coster Group
J2 partnered with Coster Group to embed FIN Framework into a new generation of plant and building control solutions - WebGarage. The system uses FIN Framework embedded into its web-enabled YHC controller platform. This year, Coster is showcasing the Trend connector that enhances the WebGarage and its offer as an integrated bundle without the additional cost. Visit Stand number A41 to find out more about the Coster solution.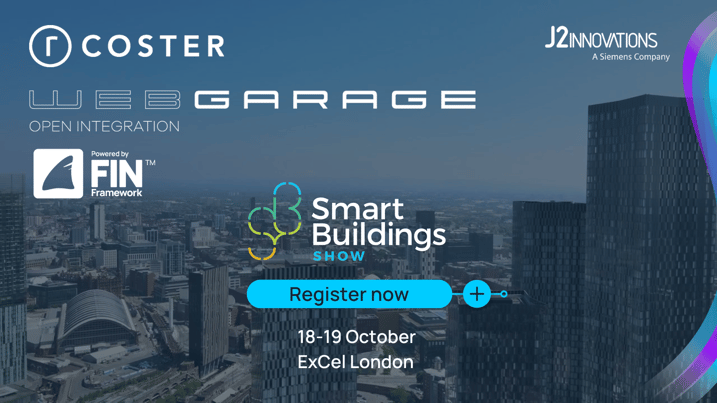 "Coster's partnership with J2 Innovations, which started in 2019, will enter its fifth year in January 2024. As Coster, relying on the established FIN Framework with standard and fully supported field protocols has allowed us to develop our solution in the most incisive and innovative way possible. Therefore, by working in an environment that allows the development of the latest generation programming environments, we have been able to meet our customers' requirements by creating a simple and intuitive environment that gives us a major competitive advantage over other BMSs in the industry.
Thanks to the scalability of the solution, we are able to leverage Edge devices in the field to reduce costs and create a flexible, distributed infrastructure by adopting Haystack's API. The work done so far has given us success and has been appreciated in the market. With this premise, we will continue to develop and work together to introduce innovative solutions for our industry." – said Davide Manca, Technical Director and Board Member of Coster Group.
The use cases of top-tier manufacturers whose solutions are powered by FIN Framework showcase how vital it is to look at the effectiveness and benefits brought by integration. This year at the Smart Buildings Show, three examples are shown that are part of the FIN Framework ecosystem developed by J2 Innovations and other OEMs.
Visit J2 Innovations' stand A20 at the Smart Buildings Show to learn more!