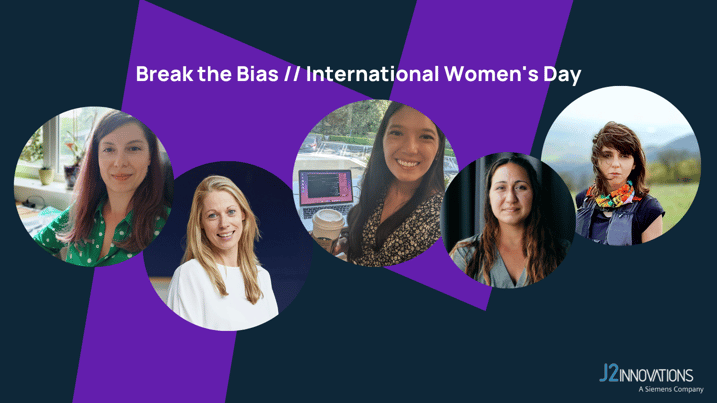 Imagine a gender equal world, free of bias, stereotypes and discrimination. Imagine a world that is diverse, equitable, and inclusive where difference is valued and celebrated. Today for International Women's Day we explore how we can collectively #BreaktheBias when it comes to equality for women.
In the Buildings Industry, we still struggle with diversity as a mostly male dominated field. In fact, women represent just 1.4% of HVAC, 5.2% of computer control programmers and operators. Here at J2, we have some incredibly talented women who we want to highlight alongside our thoughts on how we can #BreaktheBias in the Buildings Industry.
Advocacy
One of the biggest ways to Break the Bias in any field is to advocate for diversity and inclusion. Advocacy can mean lots of different things. It can mean reaching out in different ways to find qualified applicants, it can mean advocating for more apprenticeship opportunities for women or people of color, or even highlighting roles within an industry most don't think of.
"Take a good glance at the graduate pool. Invest in junior talent, reach out to the community of women and make them aware of career events. Or, create career events that will allow women the opportunity to: meet top employers face to face, grow their professional networks, engage with skills sessions, and hear inspirational talks."
Iulia Patras, QA Engineer
Representation
Another way to break the bias is through representation. If all you see in the industry is one kind of person, you internalize the industry not being for you. Positive visibility is powerful.
"You can't be what you can't see. As a marketing professional, it's important to show representation across countries, race, and gender. Are your stock photos diverse? Does your blog or podcast feature voices from multiple perspectives? Are you highlighting contributions made by a diverse set of people versus the standard industry giants? Injecting diversity and inclusion into communications and marketing is a powerful way to break the bias."
Ashley Ray, J2 Content Manager
Mentorship
Another way you can Break the Bias is by reaching back and being a mentor for another young woman. The field can feel lonely, but when you have a mentor and advocate by your side who knows what it's like, you are that much stronger.
"Influence from women educators put me on the path of my computer science career. During my undergraduate studies, I had a professor -- Dr. Seta -- who actively promoted STEAM programs in education. During my time as her teaching assistant, I came to see her as a role model for women in STEM. She is passionate, both in her own work and in her support for young women in the field."
Sarah Padilla, Front End Developer
Celebrate women's achievements
Women have been changing the game and breaking down barriers in this industry. But are we talking about them enough? Are we celebrating their work and achievements? Celebrating achievements beyond Women's History Month and International Women's Day is a start.
Create space
In a similar vein as mentorship, it's important to have a network of peers you can turn to for advice. Creating space for women to lift each other up and share their challenges and wins is important.
"Build a network around you – whether in person or virtually. Your network can support you and provide advice and experience. You never know when you will all need each other."
Jenny Evans, VP of Marketing, J2 Innovations
Here are some women's conferences to check out.
Early outreach
Oftentimes women are pushed out of fields of interest due to unconscious bias. It's important that we foster female talent early.
"The industry should reach out to young women as early as high school. It is very important to foster female talent at this formative age. Students often make career choices before choosing a major and applying to colleges. Early outreach would help the industry ensure its own growth in the next generation of STEM women."
Sarah Padilla