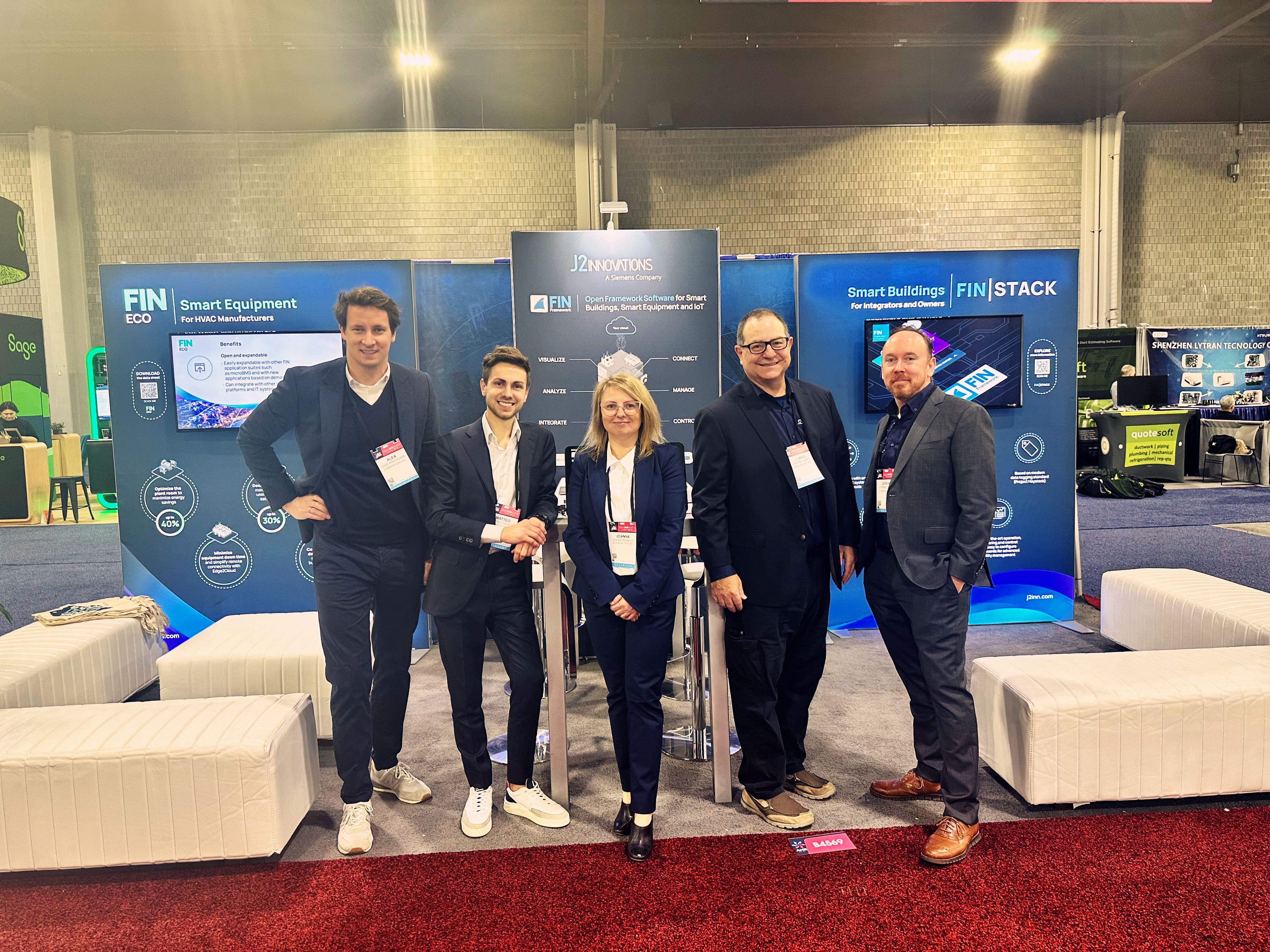 Conference season is upon us, and the J2 Innovations Team has been all over the world exhibiting at some of the industry's best events! ISH Frankfurt, Midea MBT / Clivet True Technology Summit, and the AHR Expo were great opportunities to talk to HVAC professionals and equipment manufacturers about the opportunities FIN Stack and FIN ECO can offer. We love sharing our passion for solving the energy crisis by addressing the 80% of unmanaged buildings in the world. If you want to know more, check out these upcoming events and come say hello!
Realcomm Webinar: Automating Everything
J2's VP of Customer Experience, Scott Muench, is joining a panel of experts for a two-part series webinar to discuss business and operational processes to combat the looming downturn in real estate. During this interactive panel, speakers will explore the fundamentals of integrated data sources that drive task, flow, and decision-making tools using AI, ML, RPA, and proven techniques necessary to move toward predictive and even prescriptive outcomes. Viewers of this session will learn the basics of multi-source data integration, advanced analytics, and role-based data visualization. Scott will speak about the importance of automating not only large buildings but also small to midsized buildings that are currently being managed without a Building Management System.
Dates:
Thursday, April 13 // 12:00 PM - 1:30 PM EDT
Thursday, April 27 // 12:00 PM - 1:30 PM EDT
CIIBE: Beijing, China
As J2 Innovations continues to expand, we are excited to attend our first industry event in China and our first official exhibition with Siemens in that region. J2 will be showcasing the latest technology and best-in-class applications to simplify smart buildings, smart equipment, and IoT.
Dates: April 18-19
Haystack Connect: Nashville, Tennessee, U.S.A
Making sense of the vast amount of data produced by smart building devices and equipment is one of the biggest challenges we face in the industry. This is why Project Haystack is so necessary. With the help of the community, we are able to use tagging and data modeling to automatically describe data, assign meaning, and therefore make working with data more efficient.
J2 Innovations is proud to be a founding member, have a role on the Board, and sponsor this convening of industry professionals every other year. The two-and-a-half-day long conference includes keynote presentations, a vendor exhibition hall, and a packed schedule of technical sessions covering data acquisition, communications, protocol translation, data visualization, analytics, data semantics, modeling and security—all critical technologies essential to using operational data to drive improved performance. Join us and the growing community of practitioners!
Dates: June 5-7
We can't wait to share more about #FINFramework and meet others passionate about sustainability, building automation, and Project Haystack.