This is the second blog in our What's New With FIN series where we will explore how the FIN Framework is more open, fast, robust, and extensible.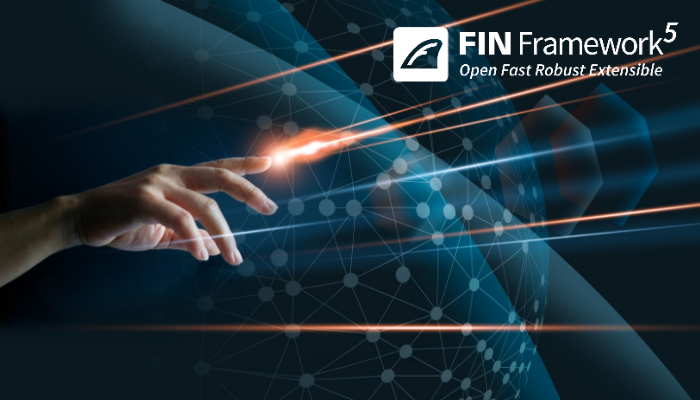 Continuing our series on the exciting new updates to the FIN Framework, we will look at how FIN 5 is faster than ever before. What makes FIN faster? We've made multiple changes to help reduce engineering time through automated tasks and templates, we've optimized workflows to further reduce the number of clicks, and made database configuration easier, as well as making data queries quicker than ever before.
Reduced Engineering Time
Thanks to the use of tags, FIN 5 features auto-generated configuration, enabling the creation of an entire project from a spreadsheet using our import utility wizard. The expanded templating simplifies device configuration, and significantly reduces engineering time. This is a huge time saver for all aspects of a project, including points, control logic, graphics, summary, O&M manuals and OEM specific features.
"With system integrators and OEM developers in mind, FIN made big enhancements to their essential application - DB Builder. The continued focus on tagging has truly changed the effort required for building of a production-ready BMS database forever. With this simpler design and straightforward approach to data integration, projects can now be deployed way faster with less engineering time. Big win."
- Alexander Baydar, Building Controls Integration Manager,
TEC Systems
Faster Database Configuration
FIN 5's new DB Builder is built for speed. The new UI helps visually organize, and the workflows are optimized for faster database configuration. The DB Builder is entirely HTML5 and incorporates the powerful use of multiple trees to see and manage every aspect of a project database all in one place. In addition to the original Equipment tree view, new trees show information organized by application; Graphics, Programs, Connectors, and Schedules. New power tools support the drag-and-drop of records to create Relationships, Clone, use Tag bundles, apply Templates, add Histories, add Alarms, and do Conversions. All of this equals faster navigation and a better overall user experience.
Game Changing Template Wizard Technology
FIN 5 includes new template wizard technology that makes integrating controllers faster and easier. This enables the automatic creation of database points, graphics, summaries, control logic, alarms, and beyond. FIN 5 templates enable products that dynamically create their solution with zero engineering - which is a game changer!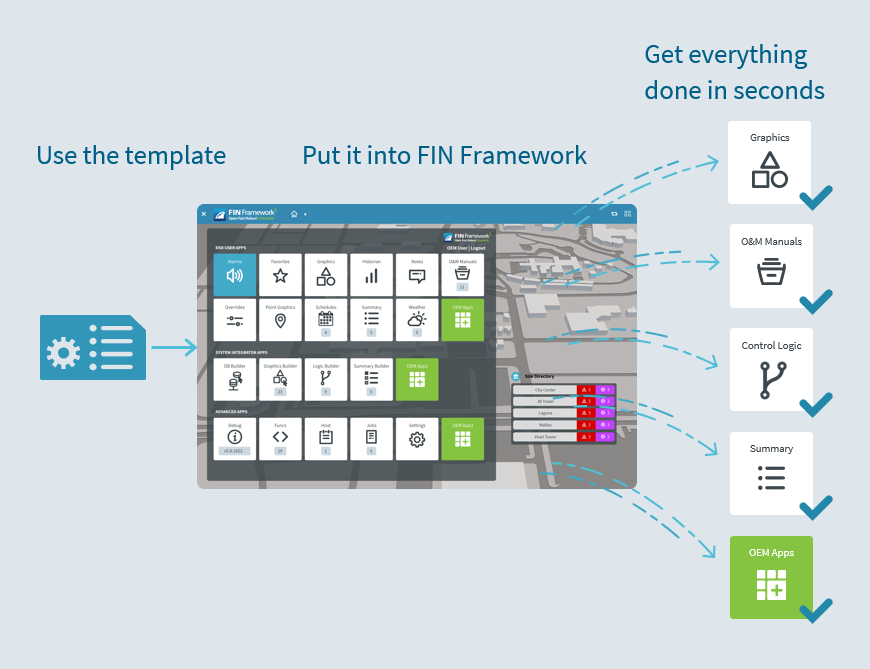 "On a recent field test site that we were working closely with our customer on the new templates, I had this realization that FIN's new Templates capabilities is actually like having a virtual version of a senior level building automation technician inside of the computer. Most of the tedious and laborious tasks required to create a cutting edge user experience have been automated through FIN's application suite and the power of tagging and data modeling. The increased efficiencies FIN has to offer creates more time for higher-level functionality and differentiation - a win-win for everyone!" - Ryan Schlotfeldt, V.P. Sales Americas
Faster Data Querying
Building automation systems acquire massive amounts of data over the course of weeks, months, and years. Because you're dealing with large amounts of data, data analysis can be laborious because querying the data takes time, especially on large sites, multiple sites or when querying over longer time periods. Not with FIN 5. FIN 5 is based on the Folio 3.0 database, which can support clustering and replication and offers much faster large query performance.
Quick and Easy Changes on Mobile Devices
The enhanced UI has improved FIN's mobile experience as well. Here's what another FIN user says regarding the new update.
"Our customer chose to use FIN for the mobile experience. They recently provided all of our facility maintenance personnel with iPhone's and are excited for them to be able to service the system from a mobile environment. The mobile scheduling app has been a great new addition for empowering our team to make quick and easy changes while they are on the move." - Gezim Berisha, ACE Solutions Group
Faster configuration, faster engineering, faster data analysis... there are multiple reasons why FIN 5 delivers a much faster experience. Stay tuned for our next blog in the series, where we'll explore how FIN 5 is more robust.