This is the fourth blog post in our What's New With FIN series where we will explore how the FIN Framework is more open, fast, robust, and extensible.
Continuing our series on the exciting new updates to the FIN Framework, we will look at how FIN 5 is more extensible than ever for OEMs and developers.
The FIN Framework has always been a great solution for OEMs and developers looking for software flexible enough to build upon. FIN was designed to encourage community collaboration and seamlessly supports add-on applications such as wizards and templates. With every iteration, J2 developers have looked into ways to make our software as extendable as possible. With FIN 5, our team has created the most flexible, modular software on the market today with tons of APIs and Connector Framework enhancements to help OEMs and developers extend the framework. Here are a few ways FIN 5 is more extensible than ever before.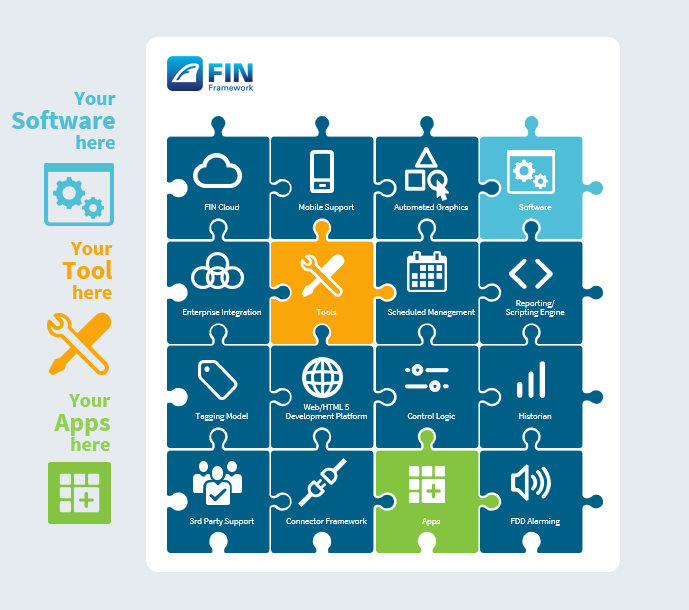 Extend Your Software
As an OEM, FIN 5's entire suite of software applications is available to build upon and call your own in a finished solution. You can choose to take all or some of the framework (scheduler, summary graphics, custom graphics, etc.), and add your own features to it.
For UI developers, FIN 5 includes support for the open-source libraries and React UI tools. Now, developers with web design skills can easily extend and build on the FIN Framework. This makes the creation of dashboards and custom user interfaces quicker and easier.
Extend Your Tools
For system integrators, configuring and programming a solution for a project can be a logistical tool nightmare. FIN 5's updated tools framework empowers OEMs to create optimized workflows that simplify the project creation process. Through a collection of powerful UI elements, OEM developers can create configuration wizards, macros, and workflow shortcuts.
In addition to the updated tools framework, the new UI provides a question and answer experience that walks users through the process in an effortless way. Workflows are already created and ready to deploy, and there is a library of standard UI elements that deliver an unified end-user experience.
Now, OEMs can create custom tools for streamlining the installation workflows and usage of their products and services by extending the FIN Framework to create software that will do these things.
Extend Your Applications
The above tools help configure a project efficiently, creating an engineered solution. Projects need to then be checked out and commissioned. With FIN 5, OEMs can now extend the framework to create applications that help cut-down on provisioning labor. For example, the provisioning of VAV boxes requires an air balancing application. An OEM can use the FIN Framework to write their own app to do those jobs faster.
UI Customization
The FIN Framework enables front-end developers to create solutions for tools and apps, making the user experience for OEMs, System Integrators, and End Users easier than ever before. It supports all the current web standards: HTML5, CSS, and JS. Not only are we using current web standards, but the‌ ‌FIN‌ ‌Framework also used the leading edge React design philosophy.
Our updated connector APIs help developers and designers easily access normalized data from IoT devices no matter what language the device speaks.
Updated Connector Framework
With FIN 5's connector framework enhancements, OEMs and developers can extend the framework like never before. FIN 5 includes APIs that help translate the protocols of smart devices to a standardized object model that includes the use of Haystack Tagging to help describe the smart devices they are connecting to. Our connectors use Haystack tagging to normalize the data so that the IoT device can then easily be leveraged by the FIN Framework application suite and additional OEM tools or applications.
The FIN Framework is ideally suited for developers and OEMs with new, easy to understand API documentation and an interactive help system that is now built right into the software.
These aspects add up to FIN 5 being the most advanced and user-friendly open framework available in the global market today. FIN 5 offers specialist installers such as Systems Integrators a huge productivity advantage compared to other options. It enables OEM developers unprecedented extensibility and ease of development, making the time to market much faster.