We're excited that the latest release of FIN Framework, FIN 5.1, is coming Summer 2021. But what can you expect from 5.1? Here's a summary to whet your appetite:
A dazzling dashboard builder app

We know that data-driven smart building, smart equipment and IoT management is essential. With the new Dashboard Builder app viewing and accessing the data you need is even easier- you can create your own dashboards, add and remove a range of widgets, and share across instances of FIN if desired. Plus, they are all dynamic and smartphone responsive. We'll be sharing much more about the new app over the next few weeks!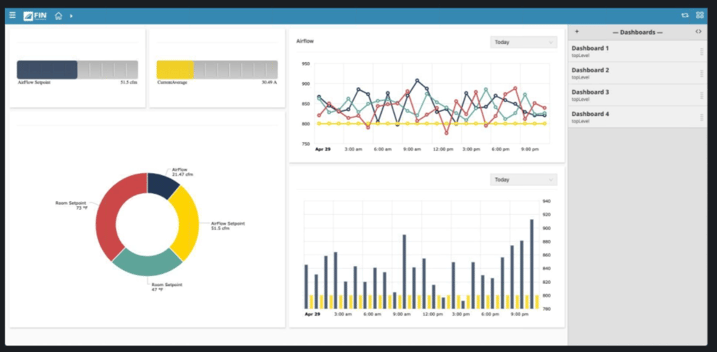 FIN Network multi-instance architecture
Add your FIN instances via connectors to the new FIN Network tree – once added you can view all your devices, whether local or remote, and drag and drop them. You can view and edit records of each without having to log on to each device separately – saving time and resource.
This is especially useful if, for example, you want to bring in data from remote devices to your server enabling the creation and visualization of dashboards. Plus, it simplifies management by synchronizing users, alarms and more. The FIN Network tree will be found in the DB builder app.
KNX IP Connector
Although the KNX IP Connector has been in FIN Framework for a while, with 5.1, we make it 'official'. The KNX IP Connector for FIN provides seamless integration with KNX devices.
The KNX connector software module can read a KNX project file and present all the KNX points/group addresses available in an installation within the FIN open platform. The automatic configuration allows engineers to seamlessly integrate and supervise the KNX components, along with other devices and systems that use other protocols. FIN Framework acts as the global system controller and/or building automation supervisor.
Edge2Cloud enhancements
Edge2Cloud is a feature of FIN Framework that allows users to access data, service and upgrade systems remotely and securely without the need of a VPN. With 5.1, the team have been busy adding a range of enhancements such as:
Access tokens to allow FIN instances to communicate via the internet with one another and 3rd party systems
Open API for secure communication with 3rd party cloud applications
Multi-language access
Access to dashboards
Updated site color markers

Pretty cool, huh? Find out all about Edge2Cloud here>
BACnet BTL certification

FIN 5.1 is BTL-OWS (Operator Workstation) compliant, which provides more support and visibility of BACnet properties and objects as part of the BACnet protocol.
Licensing Server
We'll be making a few changes to the licensing server with 5.1 which are important for our larger OEM partners. Larger OEMs can issue their own licenses from the Edge2Cloud portal. Plus, organizations can create their own sub-organizations.

We will be sharing much more information over the next few weeks. In the meantime, browse the FIN 5.1 web page for more information or, even better, listen to some of the J2 team talk about what's to come on our new podcast – FINcast. Episode 1 is all about 5.1 😊