His to Collected
This week we would like to introduce the 'His to Collected' tool. This tool allows users to update, adjust or enable the collect history option globally across your database. This can come in handy if you forgot to set up your points to collect histories, or if you simply wanted to update the settings on how frequent a history is collected.

How It works:
As soon as you fire up the 'His to Collected' tool, it gives you the option to filter exactly which points are going to be effected by the tool. The next options allow you to determine how frequent the history will be collected. The section of the tool allows you to enable/disable COV (Change on Value) collection and allows for you to set how much of a COV is needed before collecting that as a history. Once your done, hit apply and everything within the set filter will be updated!

Pay off:
Enable histories on points across your database in seconds
Update history settings that were previously set on your points
Automatically starts collecting histories as soon as the points are updated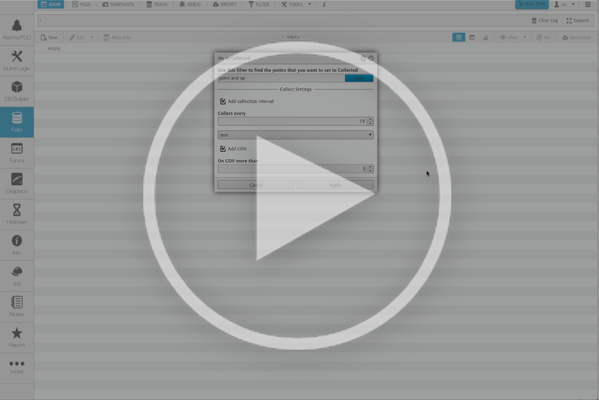 Want to see more videos? Subscribe to our FIN Weekly Mailing List or to our FIN Stack Youtube Channel.



Christopher Simonian
Chris has been with J2 Innovations for over 8 years and is an active part of the J2 Innovations Technical Support Team. Along with providing technical support, Chris also creates How-To-Videos, helps with licensing and orders, and provides a variety of professional services. Having hands-on experience with customer needs and the software itself has greatly contributed to the making of our J2 Innovations How-To-Videos.