J2 Innovations provides the latest technology to enable OEMs to accelerate the design, delivery and build of their own smart products and services. As your technology partner, we believe in building strong relationships and maintaining trust throughout our journey together. If you've been researching FIN Framework, have taken FIN for A Spin, or attended a demo and are ready to move forward, here's a quick overview of the OEM process from ideation to product launch.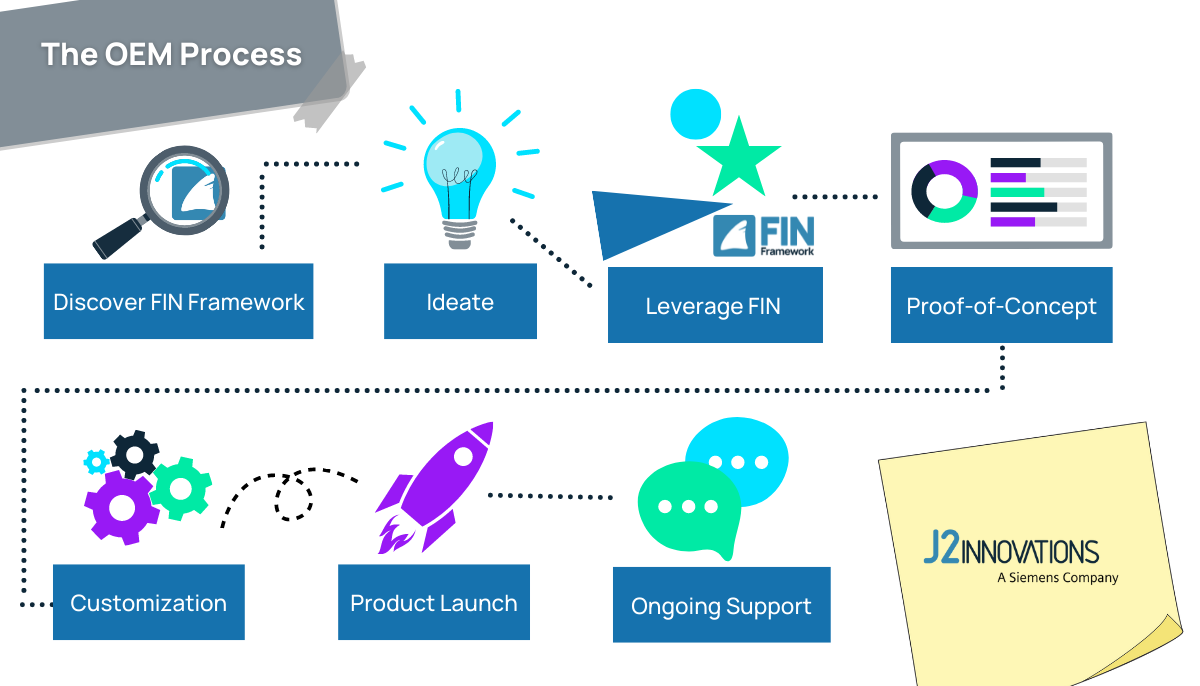 Idea
Do you have an idea for a great product or service you want to get to market? Why not build on, rather than build from scratch? Starting from scratch to make your own unique solution means a lot of up-front capital and risk. This is why a lot of software developers often start by leveraging existing frameworks. Buying into a framework will lower upfront costs because much of the work is already done. All that's left for your internal developers is the customization.
Leverage FIN Framework
The FIN Framework is both an integration platform and a suite of off-the-shelf applications that can be leveraged "out of the box" to create new products and service offerings rapidly. FIN offers a complete user experience, control engine, alarms, schedules, summaries, point graphics, historian, notes, O&M Manuals, and more. OEMs can rebrand and select the functionality and applications from this growing list of features to incorporate into their product.
Proof-of-Concept
Ideas come to life quickly with the help of our Professional Services Team (aka the "Glue Team"). Mockups and prototypes of your new product are created and can be taken for a test drive. The creative process is iterative and fun! As you test drive the functionality built into our app suites, such as Supervisory & Control, microBMS or FIN ECO. FIN's use of wizards and optimized workflows create a fantastic user experience. Through this process, you get to experience firsthand how your product will look and feel.
Customization
Now that we've leveraged much of FIN's application suite features and functionality, it's time to "fine-tune" your product offering through customizations. Our Glue Team will work with your R&D team to tailor FIN to fit the devices you want to control and build dashboards and custom UI to make a unique product offering. We can even build new applications for you!
Product Launch
Through this process of ideation, leveraging the FIN Framework, building a proof of concept, and final customizations, a new product is born. In addition, the J2 Innovations team offers co-marketing and back office support to ensure a successful product launch. This ultimately means that your new product gets to market faster, with less risk and at a much lower cost.
Ongoing Support
Part of the relationship with J2 Innovations is our complete OEM onboarding process where we get you up to speed on our business processes, for example how to get trained, how to place an order, and get support. We offer training on our application suites, custom courses, and offer a Train the Trainer program. Our Edge2Cloud portal provides easy project and license management, as well as provides remote connectivity to FIN based devices. Our tech support team is ready to help and can even collaboratively connect via Edge2Cloud to resolve issues.
Let us help you focus on your business objectives and we'll focus on helping you build great software.