The J2 Innovations team is on the road again for the next few weeks for a Take FIN for a Spin roadshow and a FIN Training class with a few of our FIN Authorized Distributors.
Gerard and Erol started the tour in Houston with a TFfaS with Relevant Solutions. Next week, they'll be in Timonium, Maryland with FIN Authorized Distributor M&M Controls for a FIN Training class. Finally, they'll complete their tour with two TFfaS events with Relevant Solutions in Salt Lake City and Baton Rouge.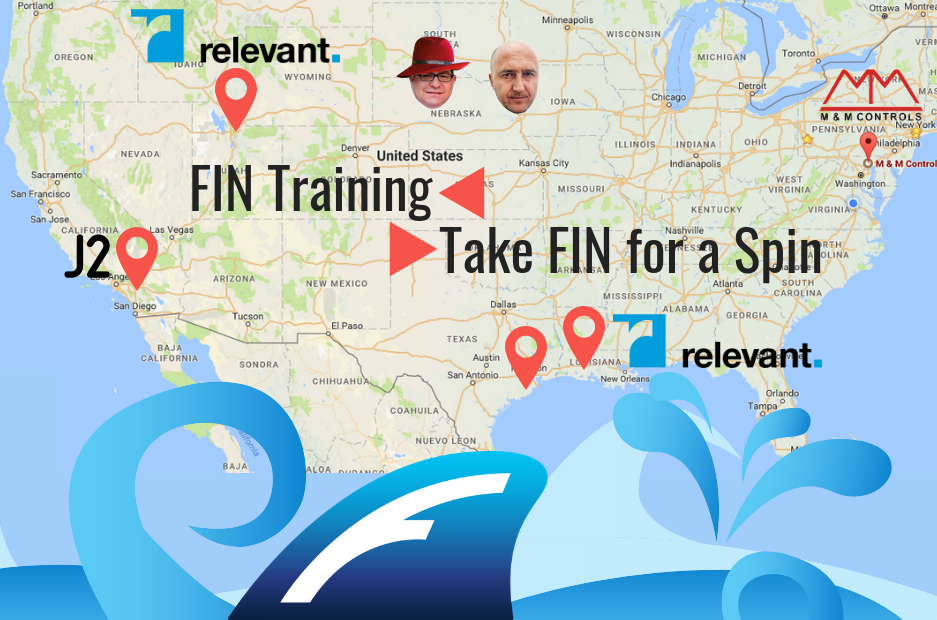 About Take FIN for A Spin
Take FIN for a Spin (TFfaS) is a no cost, one-day trial designed to give you a look at how FIN technology works. During these events, you'll have an opportunity to see a live demo and then roll up your sleeves and do a hands-on series of labs. The session lasts for 4 hours and includes lunch. In the morning session, participants are introduced to the basics. Following lunch, the afternoon session helps participants load FIN on your laptop to learn how to create, engineer, and program a complete project from start to finish.
About FIN Training
At J2 Innovations, our primary goal is to provide timely and accurate training along with information on the most current release of our software product. We strive to make the training hands-on so that the students learn not only the concepts but also how to apply them to their everyday projects.
On the last day, students are given an actual project submittal so that they have everything they need to complete a real integration job. They will create: system architecture, data modeling, graphics, schedules, alarms, logic, histories, and summaries. Students will leave the class knowing that they have the requisite knowledge, skills, and tools to complete a real job.
About FIN
FIN (Fluid INtegration) is the next generation Building Automation System (BAS). It features a new applications server technology that embraces tagging and data modeling, which enables unprecedented new functionality. FIN is a unified toolset optimized for efficient workflow. It dramatically reduces engineering labor and complexity to build your customer's solution easier, faster, and better.


Here's a look at the dates of our upcoming stops:
March 5-8: FIN Stack Training at M&M Controls (Timonium, Maryland)

March 12th: TFfaS with Relevant Solutions in Salt Lake City, Utah

March 14th: TFfaS with Relevant Solutions in Baton Rouge, Louisiana
Interesting in hosting a TFfaS or FIN Training? Contact our training team!