It only happens every other year and it never disappoints. We had a great time at this year's Haystack Connect conference! The event was held at Paradise Point, an island resort on Mission Bay in San Diego. This beautiful setting made for a spectacular conference. It was encouraging to see an increase in International participation - some people from as far away as Japan, Poland, Israel, and Australia (some of whom are new FIN customers).

Haystack 4.0
The big buzz at Haystack Connect was the introduction of Haystack 4.0, a game changing update to the Haystack standard. The new version adds data-modeling features that support the implementation of both a taxonomy and the resulting ontologies that define the relationship of things and between things. This means that if a project is specified with a common data schema that can represent all the critical aspects of the building - the people, places, and assets, and the relationships between them, then the sharing of data between domains becomes straightforward and enables data from one system to be used to enhance the functionality of others.
Haystack 4.0 is the culmination of over a year's worth of work by WG 551, resulting in new vocabulary, taxonomy, ontology, and inference that can better describe the real world through tagging and data modeling. The standard will continue to be extended, therefore we would love to see more contributions made from Haystack community members. It's out for public review.
Pitchfest
This year's Planery session featured something new called Pitchfest. Think Shark Tank for Haystack enabled products and services. Each presenter had 10 minutes to pitch their company's use of tagging and data modeling. If you went over, you got the air horn - Scott and Ryan were the first to experience it. :)
Project Haystack and Haystack Connect have really matured over the last eight years. It was incredible to see a sampling of 12 companies showing off their new products, technologies, and solutions that are now available today.
Presentations
Lots of great presentations this year! We were proud to have many new faces from J2 Innovations presenting this year. Ryan Schlotfeldt was on the Benefits of Tagging in Application Development panel. Scott Muench presented on the Introduction to Data Modeling, Haystack, and the Application of Tagging in the Real World panel. Alexander Rohweder and Chris Irwin presented The Value of Tagging in Building Automation in Europe.
All of the presentations will be available in a few weeks. Visit the Haystack Connect website for updates.
Haystack Connect Fun
There were two dozen exhibitors and sponsors on hand for the exhibit hall during breakfast, lunch, and dinner breaks. This provided a great time to network and see many of the products and services introduced at Pitchfest. J2 Innovations is a proud Champion Sponsor, and shared their booth with FIN OEM brands EntroCIM and IntelliFront. We appreciate their support.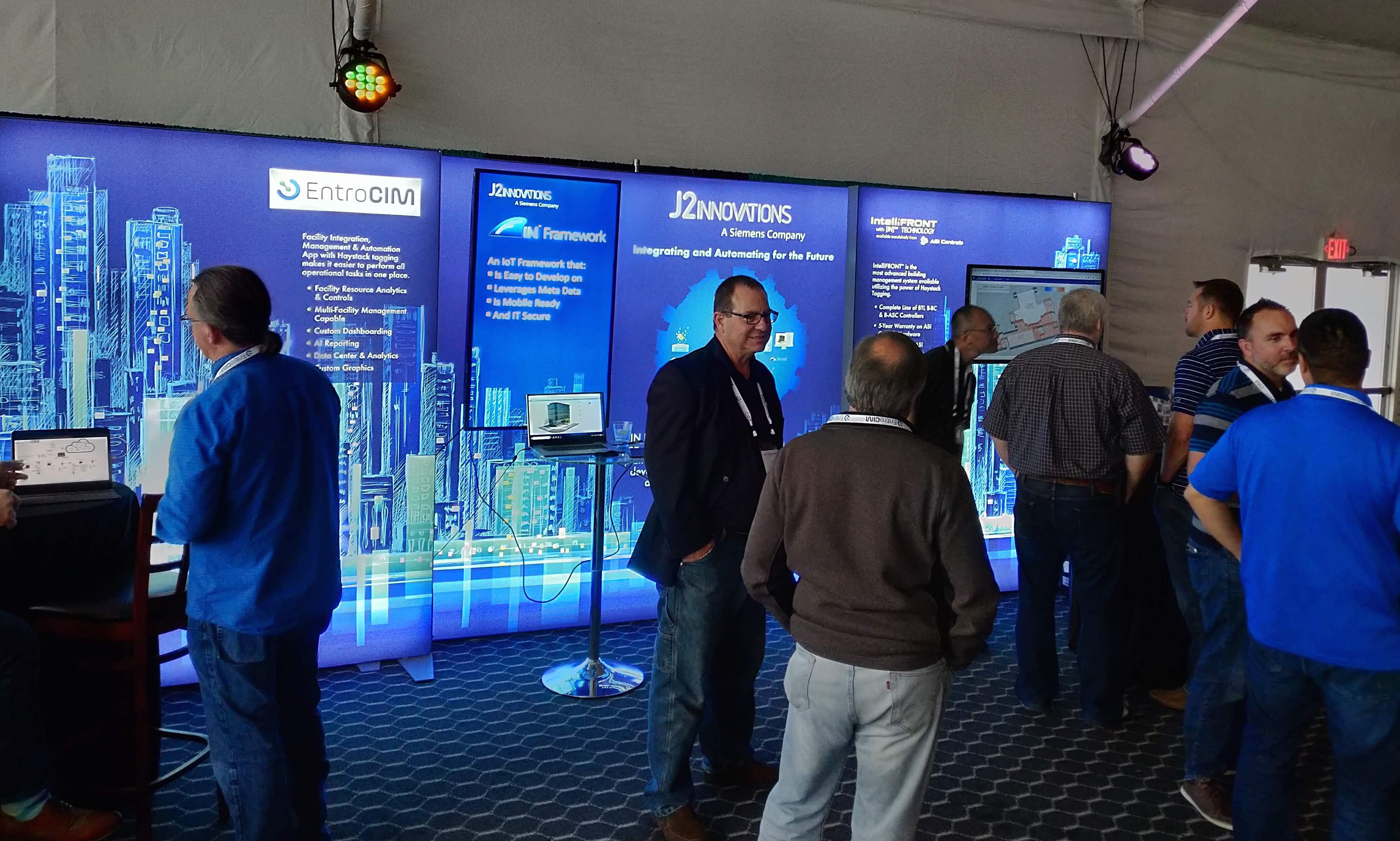 The highlight of Haystack Connect is always The Interoperable Blues Band (IBB). Not just any band, but the integration of talented players from across our industry and featured artists who join together on one special night. This fun event featured "Band in the Round", where community members were encouraged to try their hand at a percussion instrument and/or a sing along with the band.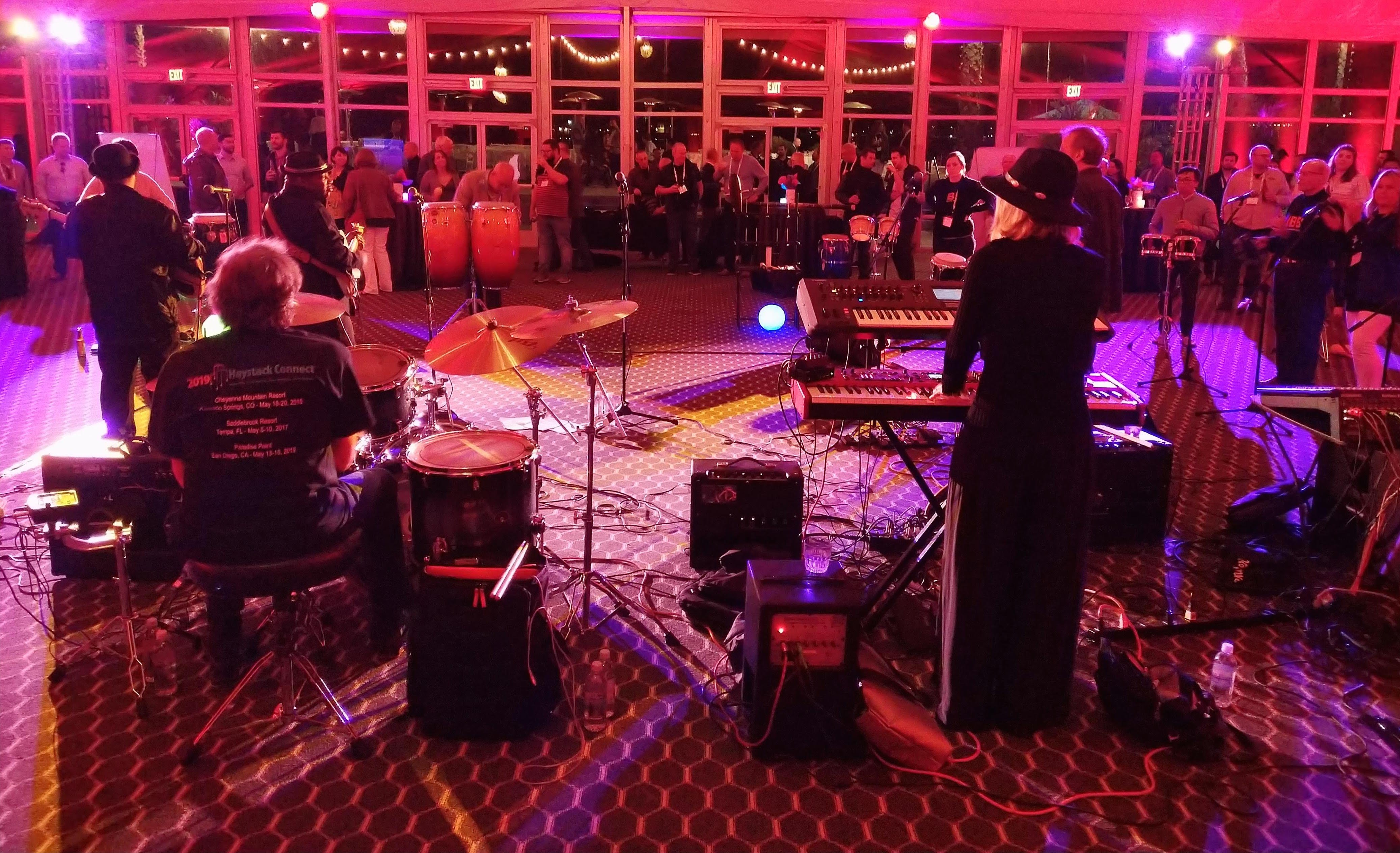 For behind the scenes photos, check out our Facebook page.