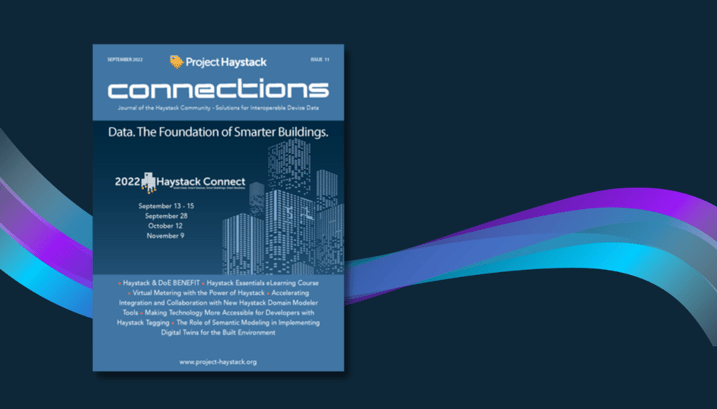 The 11th issue of Haystack Connections Magazine is officially out! We are always excited to read about what's going on in the industry, however we are especially excited about this issue as it's the first issue under the new Co-Executive Director, J2 CEO Alex Rohweder.
Haystack's bi-annual magazine reports on the latest activities submitted by the Project Haystack community from around the world. The Fall 2022 issue theme is "Data. The Foundation of Smarter Buildings," with a lens on how community members are using the standard to add meaning to the vast amount of device data produced by smart devices.
"The importance of this effort to society is clear. Data is fundamental to businesses. Data is essential to operating and managing our buildings and for them to become smarter. Data is now an irreplaceable asset. However, how businesses handle and manage data, continues to evolve. So does Project Haystack. Growing membership in the organization, additional working groups and real-world use cases, now estimated to be over 50,000 facilities worldwide, all point to the growth and acceptance of the Haystack standard." - Alex Rohweder, Co-Executive Director of the Project Haystack Organization
In the opening letter to community members, the Project Haystack board defined a few focus areas for the organization moving forward:
The ongoing advancement of the Project Haystack standard to include more applications and devices as well as the evolution of its ontology.

The further off-the-shelf adoption of Project Haystack in systems and IoT devices.

Continued dialogue with other standard bodies for interoperability.

Increased communication and education on Project Haystack.

Further expansion in EMEA, Asia-Pacific, Australia, and beyond.
We look forward to seeing where these goals take Project Haystack, the Haystack community, and the industry under this new leadership.
Welcome, Coster Group
There's a great profile on new Associate Member, Coster Group, and their WebGarage platform. Coster Group is a J2 OEM and their platform was built using FIN Framework. We are excited to see them join the Haystack Community! Read more about how WebGarage leverages the Haystack Standard and FIN Framework here.
The Future of EV Charging - Developed by the Haystack Community
Here at J2 we are passionate about sustainability and solutions that lower our carbon emissions. It was exciting to read Jan Široký's article about EV charging solutions being more interoperable using AI. Fascinating work being done by the Energy Twin Team!
Additionally, there's an entire Haystack Working Group around EV charging to define the units, tags, and other metadata related to working with device data from Level 2 (AC) and Level 3 (DC) Electric Vehicle Supply Equipment (EVSE). This working group will collaborate with the Labs Working group and look for opportunities to improve Project Haystack definitions for electric power distribution equipment.
Making Technology More Accessible with Haystack Tagging
The J2 Innovations team contributed two articles for this issue of Haystack Magazine: A business case and a developer case for making technology more accessible with Haystack tagging.
The Business Case
"With an increasing demand and more legislation for better building efficiency (not just energy but beyond), the demand for holistically integrated, and data driven building management and optimization has rapidly increased. To set the foundation for holistic building management and optimization, the starting point is a normalized, contextualized, and IT friendly data basis." - Read Alex's contribution on Page 42.
The Developer Case
"Making Haystack more accessible is the best way to move our industry forward. We need to get more developers interested in working with Haystack, and in order to do that, we need to make sure we're using standard, popular, well-known technologies. At the same time, we need to continue to make smart building solutions that are easy for end users."
In this article, Gareth Johnson will shares Haystack initiatives he has been leading to proliferate the standard more, make it easier to use, and attract more developers to the community. Read Gareth's contribution on Page 50.
Project Haystack Member Interview with J2 Innovations
J2's CEO, Alex Rohweder, was interviewed in the Member Interview section. Read why we support Project Haystack and the use of Haystack tagging on page 74.
"With the 10-year anniversary of Project Haystack last year, the standard has flourished and J2 is proud to support and participate for the benefit of the industry, and ultimately for our planet. However, we believe that this is only the starting point of the Project Haystack journey; a key driver for future growth will be the increasing number of BMS, BAS and IoT products which are equipped off the-shelf with Project Haystack based tagging to further proliferate cross product integration in buildings and related infrastructure." - Alex Rohweder
There you have it, our highlights of Haystack Connections Magazine! This is just a small sampling of the great content you'll find in the Fall issue. Now go give it a read!