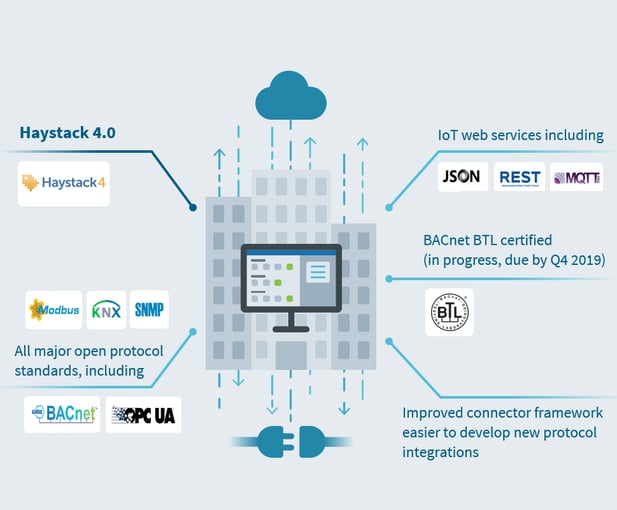 This is the first of a series of blog posts where we will explore how the FIN Framework is more open, fast, robust, and extensible with FIN 5.
Over the last decade, the BAS market has responded to end-user and specifier requirements for open standard protocols, making the integration of systems easier than the previous era's proprietary protocols. As the deployment of IoT solutions in buildings accelerates, there is a growing need and expectation for even more openness and compatibility with various new open standards.
Most conventional BAS software applications have been architected before the growth of the Internet of Things so are not readily adaptable to this new reality. Progressive end-users and specifiers are now most interested in deriving as much value as possible from the wealth of real-time data collected by building automation systems. They want data that is structured and formatted in highly transferable abstracted ways. This requires standardized meta-data, (tagging), and standardized ontologies, both of which have been addressed in the recently announced Haystack 4 open standard, which is currently being evaluated by ASHRAE for inclusion in its upcoming 223P standard.
Our FIN 5 software suite for monitoring, controlling, and visualizing systems in buildings has been developed with IoT and IT standards in mind. Our software platform is well placed to provide a solution for OEMs who now need to update and redesign their software for this newly converged IoT compatible era. FIN 5 is designed to be easy to customize and is already used by a variety of manufacturers involved in HVAC, lighting, and shading control. Thanks to FIN, they can now offer state-of-the-art solutions on their product portfolios.
FIN 5 is the latest incarnation of the FIN Framework and is now more open, fast, robust, and extensible than before. In this blog, we'll look at how the FIN Framework is more open.
How FIN 5 is More Open
FIN's architecture is based on the use of semantic tagging. This means that data can be tagged as soon as it comes into FIN via one of our many network protocol connectors. The tagging enables FIN to automate the majority of configuration tasks, hugely simplifying system configuration and commissioning. FIN natively supports the Project Haystack open standard for defining and communicating building-related data. It uses the Haystack protocol (over REST) to communicate between multiple instances of FIN, making it more open than other framework products that use a proprietary comms format for their communications between instances.
In addition to FIN's support for IT oriented standards (JSON, REST and MQTT), FIN 5 also supports a full library of open standard protocols that are typically used in buildings, including BACnet, Modbus, KNX and SNMP. A more comprehensive list of the available connectors can be downloaded here. This list continues to grow, as our partners are developing new connectors, both open and proprietary, on a monthly basis. IoT Warez, for example, has a list of connectors they've developed, which can be downloaded here .
Need FIN to support a new protocol not listed? Please get in touch to discuss development. In FIN 5, we have made this process easier than before by enhancing the Connector Framework to speed up the development, especially for serial connectors.
In FIN 5, we have also improved our API documentation to make it easier for developers to access the information they need to customize and add to FIN, making it more open for third parties to develop on.
The future of BAS is an open one. FIN 5 is paving the way for open standards as the most innovative and advanced software platform for Building Automation and IoT applications.
For more information about FIN 5 or FIN Cloud, visit j2inn.com or contact sales@j2inn.com