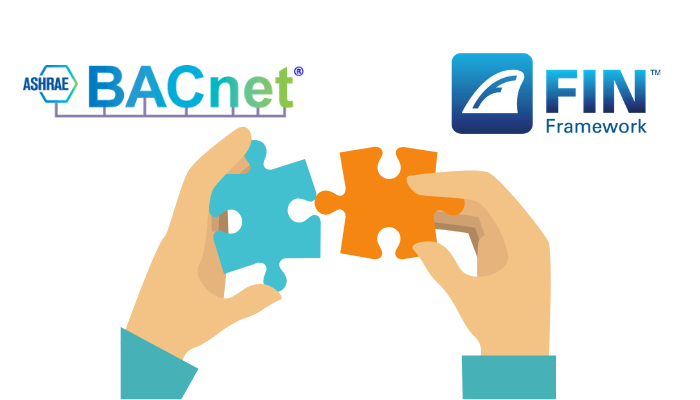 As the Building Automation industry continues to evolve, there is a need for IT and OT vendors to create devices and software to adhere to a standard protocol. BACnet, which stands for 'Building Automation and Control Networks' is one of the most mature and widely used standard protocols for building automation. Created by ASHRAE to simplify the integration of multiple building automation systems on big sites, BACnet provides an alternative to proprietary systems so that building operators are not tied to a single control brand for all phases of a project, or even to one vendor for all the system components, as the supervisory software, main plant controllers and room/zone controllers can all be sourced from different manufacturers.
Vendors who adhere to the BACnet protocol give users the freedom to use more than one specific brand while being able to get devices talking to each other. It also helps standardize BAS functions like data sharing, alarming, trending, and scheduling. The BACnet standard defines devices, objects, and services on the network. This provides consistency and a common language for describing equipment and some of their associated functionality.
Integrating BACnet devices using FIN
It's easy to integrate BACnet devices using FIN's DB Builder to create records that represent the devices and their associated points. The tool features a connectors tree where the BACnet discovery can be performed to find the connected BACnet devices. The devices will show up as a selectable list, and can be simply "dragged and dropped" into the Equipment Tree to model them in the database.
Once the devices are modeled, the details for what points they contain by can be exposed by clicking on the discover points button in the DB Builder - Connector Tree. Using the same drag & drop feature, the points required from the list can be highlighted and then "dropped" into the equipment tree to model the points in the database.
How our smart tools make it easy to add Haystack tags
Here's where the FIN magic happens. During the point creation step mentioned above, FIN's DB Builder features a built-in wizard to batch edit the point records and take BACnet to the next level. By simply using a tag library, the batch editor can match up discovered points with library points to automatically combine the BACnet communications with Haystack tags.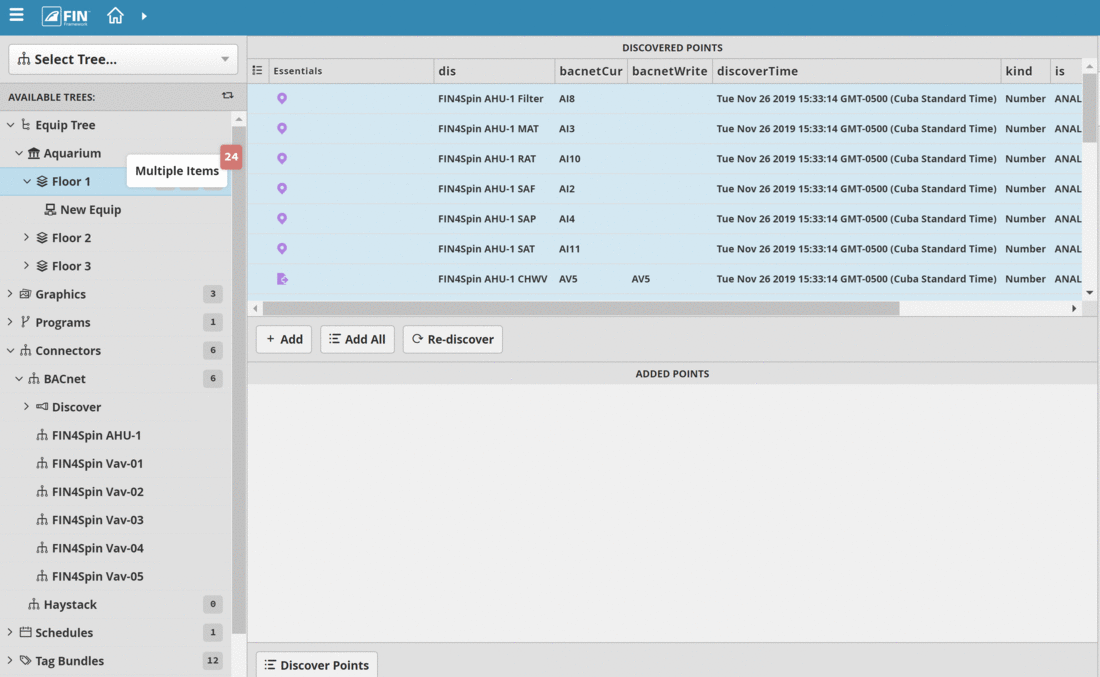 So with FIN, you not only normalize and model BACnet devices and points in a database, you also get metadata added to those same records and make them Haystack compatible. Effectively, taking the best of both worlds; by enhancing the established standard for connecting devices (BACnet), with the new, open standard for making devices self-describe through the use of metadata (Haystack). Now that they're self-described, applications can seamlessly connect to the device point data without any labor-intensive manual linking.
See the DB Builder - Connector Tree in action in the video below and stay tuned for more videos highlighting FIN's new DB Builder.