We're excited to welcome longtime marketing professional, Joanna Benbow, to the J2 team as our Global Marketing Manager. Joanna comes to us with 13 years of marketing experience AND a double degree in Marketing & Management and Global Business Management.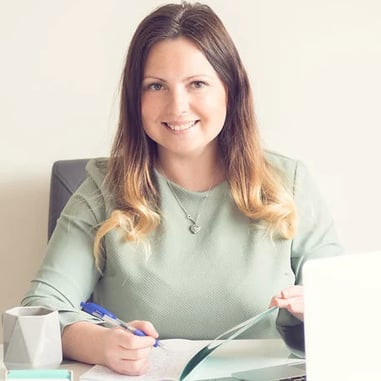 "I found myself drawn to technology and marketing-related subjects during my first years at university and decided that advancing these skills would be perfect for future-proofing my education and career. In 2014, I became a certified Charter Marketer with the Chartered Institute of Marketing (CIM), and I have retained this status year after year by providing continuing professional development submissions (CPDs).
I gained my first practical and strategic experience working for a global security and access control group. Afterward, I continued developing my skills and experience as a self-employed marketing consultant with various technology organizations in electric vehicles, transport, and renewable energy industries."
Joanna also shares a passion for sustainability and reversing the effects of climate change and has been active in climate change initiatives in the UK.
"I believe you need to practice what you preach, so for me talking about climate issues is not enough. You have to be proactive and make changes yourself, even if they are only small changes," she says.
Joanna is an advocate of ditching fossil fuels through electric vehicles, cycling and walking.
"As a family, we started our journey to become more sustainable by switching to EVs back in 2012. This year marks our 10-year anniversary, our Tesla hitting 100,000 miles, saving tons of CO2 emissions. Not to mention the positive impact on the local environment. We live nearby five Areas of Outstanding Natural Beauty (AONB), UNESCO biospheres, and two National Parks: Exmoor and Dartmoor, so not polluting the natural environment is crucial for us.
We also live right next to the school my children attend, so by cycling or simply walking, we limit dangerous levels of air pollution. Air pollution is known to damage children's developing lungs, but recent research also indicates it harms children's ability to learn at school and may damage their DNA. Sadly, nitrogen dioxide (NO2) levels, emitted mainly by diesel vehicles, have been above legal limits in almost 90% of urban areas in the UK since 2010. We should all play a part in changing that. I hope my influence helped many to transition to EV, making a positive impact locally."
Beyond EVs, Joanna started her own initiative to plant more trees as a way to further fight climate change.
"In 2021, I decided that I wanted to do more, and together with a friend, I started a small not-for-profit, Trees For Good Causes. Our vision is to support local communities in tree planting and work with local charities to give something back. We all know that planting trees is essential (although not the only answer) for fighting climate change. Trees help prevent flooding and erosion, purify the air, improve soil quality, lower the air temperature, help sustain wildlife, and help to protect biodiversity. Our weekends in late fall and early winter are spent mainly on farms and woodland areas with a spade and gloves, digging holes and planting trees. It's a great outdoor activity for kids and local communities. It's a win-win!"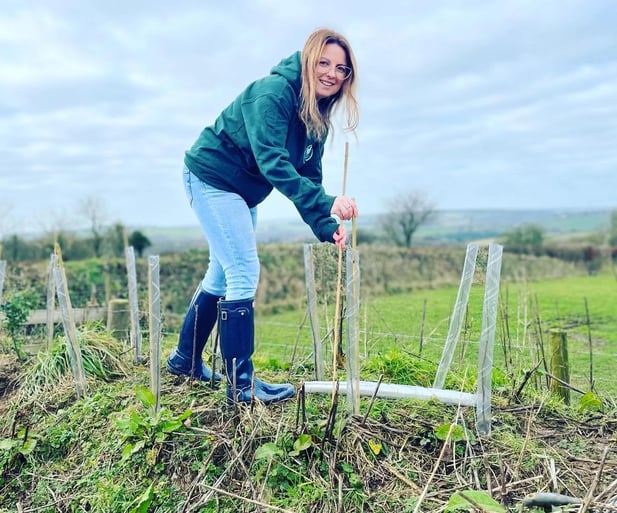 Working in the Buildings Industry
Joanna sees working at J2 Innovations as an exciting opportunity to help reduce carbon emissions through technology.
"After spending the last ten years helping drivers ditch fossil fuel vehicles and switch to electric ones, I'm excited to take a step further and play a part in buildings becoming more energy-efficient.
J2 Innovations provides a crucial element to help improve the current issues facing our planet - building energy efficiency. Building automation will allow businesses to reduce consumption and limit CO2 emissions, helping to cut costs and improve return on investment. Businesses need to have access to this type of software and utilize it, primarily due to the energy crisis we're currently facing. In many cases, buildings are responsible for 40% of energy consumption and nearly as much greenhouse gas emissions, which is highly unsustainable. J2 Innovations has the solution to that problem, and I'm looking forward to being a part of the team that helps make this change happen globally."
The route to zero-carbon includes addressing the high energy consumption in buildings.
"Implementing building management systems (BMS) to provide control and data to manage a building and understand energy waste is now easier than ever to implement. Having a smart system in place will help save money and be more environmentally responsible. The route to a zero-carbon world is to make businesses as sustainable as possible. Therefore, we must be proactive about integrating these new technologies into building management strategy with improved decision-making. It's exciting to see there are already possibilities in the market to do so, including J2 Innovations' FIN Framework."
When Joanna isn't at work, she spends active time outdoors with her family planting trees, cycling, swimming, and surfing.
"I try to find some time to myself and do things I love. This can be a trekking adventure with a friend, oil painting in my garage, or planning my next travel trip and enhancing my photography skills. Currently, I'm also working with my father-in-law on publishing a lovely children's book that, no surprise here - touches on climate issues."