We have a lot of new technology products on the horizon at J2 Innovations for 2021 and beyond. This is due to the constant innovation, research, and development of our leadership and team of engineers. One of the key people responsible for driving that innovation is our VP of Engineering, Hisham Ennarah.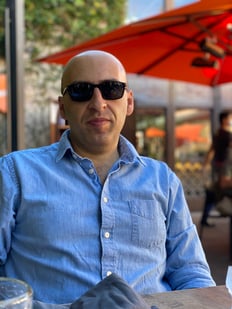 Hisham is a veteran of the software industry with 22+ years of experience in IoT, security, and buildings. Hisham heads up our core development team, which we call the "Stack Team." The Stack team is responsible for developing and refining features on the FIN Framework. These features, once released, are then utilized by the Glue Team and our OEM partners. As we approach the release of FIN 5.1 (among other new product launches this year), we thought we'd introduce this very important member of the J2 Innovations team.
Current Projects
As we mentioned, the Stack team is working on completing the next version of FIN for release in the Spring (FIN 5.1), as well as reimagining what FIN will look like in the future.
"We are always adding new features and enhancements to our existing FIN 5 product and continue to evolve that in fast iterations" says Hisham.
Hisham and his team have been working on lots of new features ahead of the 5.1 release.
"FIN 5.1 is our next big release and will have a lot of enhancements. For example, a new BACnet Connector, a KNX Connector, and a lot of other changes [to be announced soon]," says Hisham. "One of the key features in 5.1 is the new BACnet Connector, which will be B-OWS certified in collaboration with Siemens. This is a crucial investment we made after an overwhelming need from customers," he adds.
Passion for IoT
Hisham's passion for and experience in IoT has had a tremendous influence on the FIN Framework.
"I'm passionate about the concept of being connected. We are going to be living in a very connected world that will expand over time. We are still in the infancy phase of that but eventually, more parts of our life will be supported/assisted by connected devices. That's what got me attracted to the IoT world initially. The commercial sector was the first to pick up now we are seeing industrial and residential moving towards the connectivity trend as well. Eventually, we are going to live in a very connected world and that's something that really excites me."
J2's approach to IoT is one thing Hisham has admired about the FIN Framework.
"One of the key decisions that has to be made with an IoT system is what level needs to be on the cloud vs. on the edge. It's a consistent problem that every IoT project faces. What I like about FIN, is that we are very clear about that. There's a clear separation between what the responsibilities of our Edge2Cloud are versus FIN on an Edge device. I think that's a very powerful factor because it eliminates the pain and frustration caused down the road after making the wrong decision."
Looking towards the future
We love talking trends here at J2. This year, Hisham sees greater investment in solving interoperability issues.
"There are a bunch of initiatives to resolve the inter-connectivity problems we have in the building automation industry. I see investment from multiple organizations in this area of inter-connectivity between different protocols and frameworks. A good example of that is The Web of Things (WoT), an exciting initiative which is an open source standard being pioneered by Siemens."