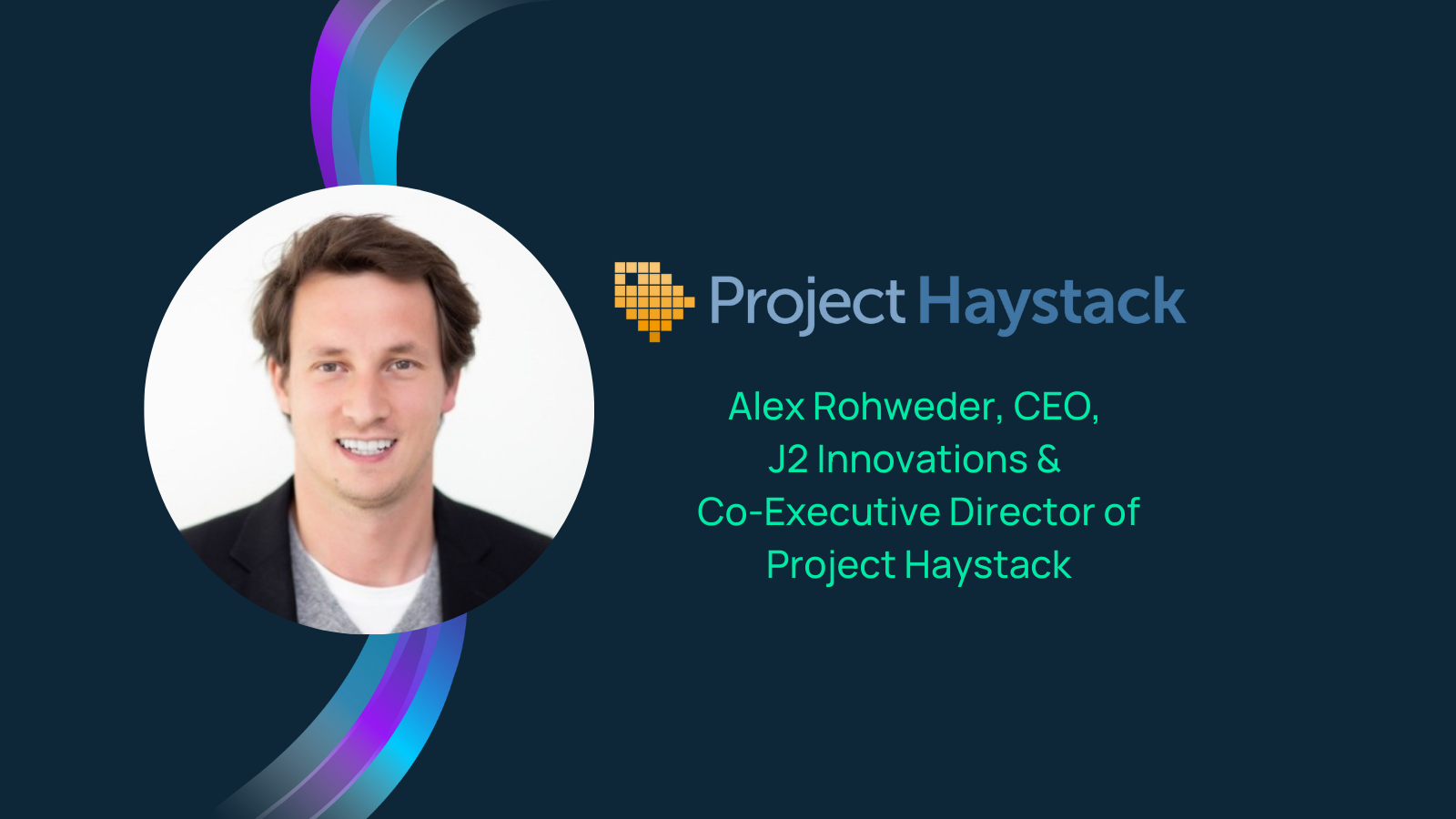 There are some new faces on the Project Haystack Board. We are proud to share that our CEO, Alex Rohweder, will take up the position of Co-Executive Director of Project Haystack alongside Richard McElhinney, VP of Technology at Conserve It and Nick Gayeski, CEO, Clockworks Analytics. The trio will replace John Petze, who has held the Executive Director position since the organisation's formation in 2011. We'd like to extend our thanks to him for all his work with Project Haystack. Alongside the existing Board Members, the newly elected Leadership Team will continue to build on the vision and success of Project Haystack.
Here's Alex's vision, ambition, and hope for the future of Haystack. Together with his Co-Executives, he hopes that all buildings will be able to leverage the power of tagging, data modelling and metadata:
Growing and extending Project Haystack
Today, Project Haystack is the most proliferated IoT data standard for smart buildings. Since its inception in 2011, many of the leading players in our industry have joined and supported that journey. But, as a truly open standard, we don't want to stop here. The smart building industry is growing in importance, size, and also in diversity; many players enter the industry from other spaces, such as smart grid or IT, and just as many are newly founded. Whether you have been in the industry for decades or just started, we continue to welcome new Associate Members that would like to join us on that exciting journey!
Beyond being a member and supporting the evolution of the Project Haystack organization, another important contribution is to make your products and systems ready for IoT driven data interoperability. At Project Haystack, we already offer a variety of open source software kits and openly available documentation to make your systems and products Project Haystack compatible; I am very excited to see more and more members making use of those openly available resources.
Technological Evolution
Project Haystack helps standardize semantic data models and web services with the goal of making it easier to unlock value from the data.
The semantic model is structured into three layers:
Vocabulary

: giving our tag names formal definitions as terms

Taxonomy

: organising our terms into a subtype tree

Ontology

: modelling more complex relationships between definitions
I believe that to push the technological evolution of Haystack, we must put special attention onto ontology. Haystack 4.0 has been a great step in that direction, as it allows us to more easily understand the relationships between different points, devices and systems within an application or building. This reduces engineering time and makes it easier to enable data analytics. We will continue to invest in this topic.
Further to that, it is essential to provide software tools and kits to the industry that make it as easy as possible for any participant in the market to make their systems and devices Project Haystack ready. I am glad to see more and more companies contributing open source tools and kits into the community for that purpose.
Working together
For the industry to truly derive the maximum value from metadata, there needs to be a collaboration amongst existing and emerging standard bodies. For example, Haystack, Brick, WoT, BACnet, etc. need to find common ground versus fragmenting the market with competing standards which would eventually decrease interoperability, where every standard originally aims at increasing it.

There is already some good dialogue happening between some of the core standard bodies and I am very hopeful that this will continue for the betterment of the world.
Find out more about Project Haystack or become a member>