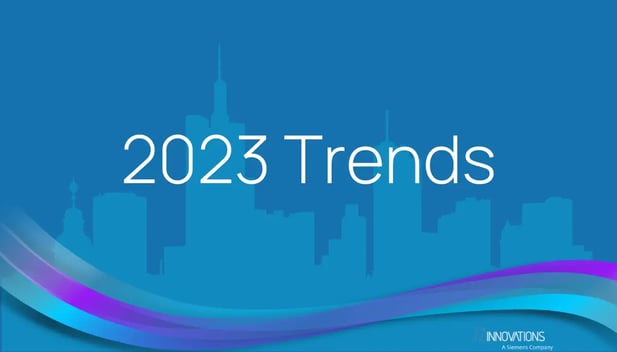 What does the future hold for smart buildings, smart equipment, and IoT? We asked some of our team to comment on trends they see in the New Year. Here are their predictions.
Edge and cloud used more intelligently
Consumer expectations always affect our industry. In our personal lives, we have become accustomed to connecting smart home devices to secure cloud services with minimal effort. Then from our mobile device, we can access it from anywhere in the world. This simplicity and convenience is what will drive more industry manufacturers to expand their technology stack from the edge to the cloud too. However, there are many challenges that need to be considered.
When controls manufacturers create cloud enabled devices they have to consider the complexities that come with the new territory, ranging from ease of branding to how cyber secure their solution. They also need to provide products that still work and are usable even when the Internet connection goes down. And even when a device is installed in a building there may not be a connection available. All of these challenging requirements (and more) affect the technology and product trends we'll see in 2023.
"It's not just about moving everything from the edge to the cloud. It's about finding the perfect balance, where edge and cloud technologies are used intelligently to solve problems in an ever increasingly complex and demanding market." - Gareth Johnson, Chief Software Architect, J2 Innovations
Read more from Gareth on this in our recent blog post here.
Democratization of building technology continues
Democratization is the action of making something accessible to everyone. By making technology that enables easier to deploy and use systems, building information becomes more accessible to a wider audience. We will continue to see the expansion of BAS to small buildings, leveraging the convergence between edge and cloud. Start-ups, HVAC equipment companies, and electrical players will join the BMS market, but with simplified mid-market solutions.
"The rise in energy cost and the necessity to drastically reduce society's carbon footprint will push the need to upgrade also simpler and smaller buildings with building management software; and at a higher pace than today." - Alex Rohweder, CEO, J2 Innovations
Sustainability trending upwards
In 2023, we predict an increase in the number of sustainable practices and incentives being put in place. Today, 80% of small buildings don't have Building Management Systems (BMS) installed and are therefore energy inefficient - heavily contributing to carbon emissions.
''We will see greater importance placed on smart and sustainable buildings as we work towards cutting CO2 emissions to meet environmental targets by 2050. Emissions from buildings will need to be 80-90 percent lower than they are today, so it is important that we find smart ways to optimize energy consumption and make efficient use of resources like water and energy. Leveraging the data and IoT utilization will be key to making a positive impact on our climate and environment." - Joanna Benbow, Global Marketing Manager, J2 Innovations
Energy crisis spawns interest in retrofit controls
The war in Ukraine exacerbated the already increasing gas price globally. The huge hike we have seen since February 2022 has shocked many people into re-evaluating their options for reducing their energy usage. Although the ongoing war is tragic, the suddenness of the change is leading to much stronger interest in retrofitting controls along with other energy-saving measures in both the residential and commercial building sectors.
The return on investment (ROI) of fitting smart thermostats and BMS type controls was already very good, but now, for many buildings, such controls can pay back in less than two years. For example, in a house that is now spending $5,000 a year on heating, the installation of a smart thermostat could save 20% and will cost only about $300, so the payback is under a year.
The greater availability of wireless sensors and control devices is making the cost of retrofitting lower than for a wired system, which means we will see a dramatic increase in the deployment of wireless energy management systems.
"In multi-site commercial applications, the ease of site to cloud connection offered by web services-based solutions coupled with cloud-based user and device management will prove to be very attractive to the building portfolio operators; again payback periods have been dramatically reduced, making the upgrading of controls a no-brained type investment decision." - Chris Irwin, VP of Sales EMEA, J2 Innovations
Leveraging sensors to collect more data
We will continue to see more companies leveraging non traditional BAS sensors, such as IoT devices to collect data. This means the demand for sensors that are IoT ready and easy to install will increase. For example, in office buildings, the usage of more sensors like occupancy sensors (eg. Enlighted) gives the possibility to optimize building efficiency even more through using this data to better fine tune the HVAC equipment.
"We will see a growing number of countries require energy and performance monitoring, therefore, we will also see more buildings retrofitted to meet those requirements. Building platforms will need to be efficiently set up and commissioned at the edge, plus automatically connect the data to the cloud. New applications and business models will provide value by interpreting the data that comes from these sensors, as well as a clear, actionable visualization of building performance." - Matteo Pierone, Global Head of Sales and Support, J2 Innovations
Equipment manufacturers make smart equipment
In 2023, we will see more OEM equipment manufacturers go beyond the basic safeties and control of plant room equipment by providing complete, integrated systems that include chillers, boilers, pumps, cooling towers, and associated valves and sensors.
"As an OEM, there is a new opportunity to gather performance data through simplified cloud connectivity and expand their role for optimizing large HVAC systems. In 2023, we will have more OEMs leveraging FIN Framework to seize this opportunity and bring new products to market." - Jeremy Wolfe, Vice President of Sales North America, J2 Innovations
Open Standards proliferate
In 2023, the real-life benefits of open protocols and open data standards reach an increasing number of projects, people, and mind share. The synergies between Project Haystack, BrickSchema, and other standards become more important than the differences, and cooperation becomes the buzzword of the year.
"Value creation is happening in the buildings industry as OEMs, System Integrators, and End Users transition to an open, industry-standard methodology for meta-data tagging and data modeling. The BAS industry is re-working how data is leveraged across the entire design-construction-operations cycle; new applications that utilize tagged data are now being used, and building owners are reaping financial rewards across familiar activities and new services." - Scott Muench, VP of Customer Experience, J2 Innovations
Read more about the Strategy and Payoffs of Tagging
All predictions trend upward for the smart buildings industry. The team at J2 Innovations enters 2023 with optimism and open minds as we work with partners to evolve the industry together.