Batch Add Schedules
Moving forward with the "Works Great With Niagara" video series, we now bring you 'Part 3' which continues demonstrating how adding a little more effort in the setup can get you an even bigger outcome. This week we show you guys how to batch update your Schedule points to work with your existing Schedules in just under a minute.

How It works:
Start off by setting up a single point to be 'Scheduleable' and bind it to any of your existing Schedules (automatically adds the 'scheduleRef' property tag to the point).

Once your single point is setup the way you want it, select the point and utilize the 'Clone Tags' tool (Schedules) to clone those settings on all the necessary points across the database. Since you've already tagged your points using the 'Batch Record Creator' (Schedules) you can now use the Clone Tags Tool's filter to effect only the points that need to be schedulable. Hit apply and your done!

Pay off:
Here are the pay offs covered in this article & video:
Tools and queries can be filtered to work on specific points (Batch Record Creator)
Automatically add scheduleRef & schedule-specific tags to points across the database (Clone Tags)
Automatically bind multiple points to a schedule (Clone Tags)
Automatically enable 'View Schedule details' button for schedulable points (Mobile View)
Automatically enable the ability to view which points are bound to which schedule (Mobile View)
Automatically enables the ability to switch points from one schedule to another schedule (Mobile View)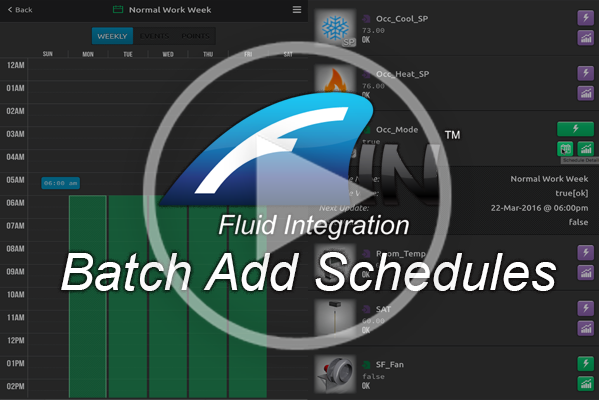 Want to see more videos? Subscribe to our FIN Weekly Mailing List or to our FIN Stack Youtube Channel.



Christopher Simonian
Chris has been with J2 Innovations for over 8 years and is an active part of the J2 Innovations Technical Support Team. Along with providing technical support, Chris also creates How-To-Videos, helps with licensing and orders, and provides a variety of professional services. Having hands-on experience with customer needs and the software itself has greatly contributed to the making of our J2 Innovations How-To-Videos.