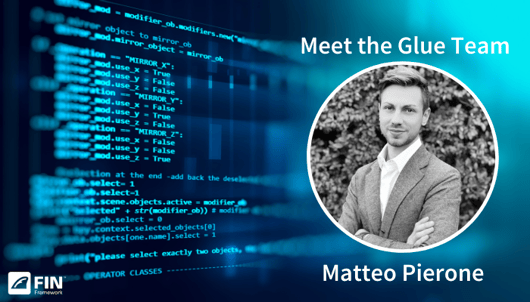 We've been introducing the members of our "Glue Team," a dedicated group of developers and engineers who "stay sticky" with not just our OEM partners but also "Glue" the rest of the J2 organization. This team is essential to J2 Innovations because they offer professional services, technical support and technical training for the FIN Framework. So far we've introduced Michael Whalen. Now, meet Matteo Pierone, our Director of EMEA Professional Services.
Matteo is responsible for the Professional Services team in EMEA, that comprise the technical, sales and developer support, custom project development, training, product management and consultant activities. He's worked in the buildings industry for twelve years in various roles pertaining to software development and has been passionate about automation since high school. In fact, in High School he created an automated system platform to manage his room that controlled the lights and temperature.
"I've seen an interesting evolution in the building automation world and in my opinion, J2 is the next-generation software for building automation and IoT. I love the idea of simplifying everyday life since we all spend most of our time inside buildings. The buildings we occupy need to be more comfortable and more automated based on the needs of the occupants. Thanks to our industry and software we help improve the quality of the air, reduce energy consumption, and optimize available resources."
Favorite Glue Team Project
"Honestly I love all the projects I've worked on so far. I don't have a favourite because I like new stuff and every project is different and amazing in its own way. All of our projects give us the opportunity to meet new people/customers and create interesting relationships and connections that give us the possibility to grow and expand our ideas. Discovering new ways the FIN framework can help the industry is exciting to me."
When Matteo is not discovering and building new and interesting applications for the FIN Framework, he is exploring the world around him. He enjoys Scuba Diving ("I really love coral reef and marine life"), growing, maintaining and automating his saltwater aquarium, and traveling - mainly in South-East Asia. His favorite place to travel is Bangkok.