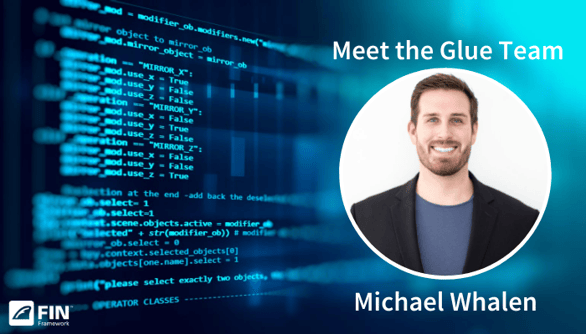 Here at J2, we've been growing and developing a team of talented developers and FIN evangelists to serve our OEM partners in their projects. We call this team the "Glue Team." They are a dedicated group of developers and engineers who "stay sticky" with our OEM partners which help them develop and adopt the FIN Framework.
Now that our team is robust with lots of projects under their belts, we thought it would be fun to introduce them! First up is Michael Whalen. Whalen, as we call him, joined us from a controls company in 2010 and started as a tester for our products. He is now our Director of Professional Services / Glue Team.
"The reason why we are called the Glue Team is because we are the glue for the rest of the company in bringing all aspects together as one. The main things we do are professional services, technical support, and developer training. FIN is very flexible and feature rich but we understand that each company will have their own unique needs. My team helps build these features and additions within the product to make it fit their specific needs or ideas. For example we create custom UI views, new communication protocols, and templates."
Whalen is passionate about design and understanding the different technical challenges to creating new features or figuring new ways to use the product to fit any industry. This is why he leads our team to assist OEMs with all of their professional service needs.
Outside of work, he loves to spend time with his wife and child and also dabbles in Fortnite. When asked what he misses while in quarantine he says, "I miss socializing with my team in the office and being able to go eat out at restaurants."