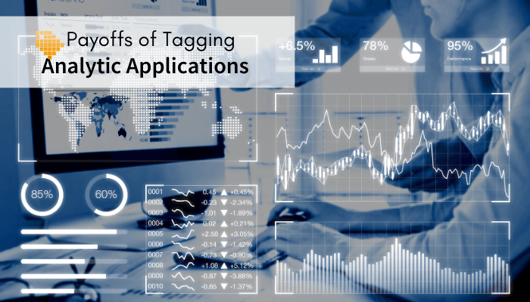 Tagging and data modeling have numerous benefits in the Buildings industry. In a recent blog, we discussed the challenges in the industry that are being solved by Project Haystack. Now, we will look at some practical examples of how tagging and data modeling is being used by the Haystack community in a variety of applications and use cases in a series of seven blogs (the seven payoffs). This blog highlights the payoffs of analytic applications.
When you apply analytics software to a well-designed and deployed tagging and data modeling strategy, you get automatic data analysis for building, energy and equipment data and thus derive more value from your investment. Data analytics creates value by detecting patterns that represent opportunities for improved performance and cost savings. Automated analytics software will identify issues, patterns, deviations, faults, and opportunities at the device, equipment and whole-building levels.
Correcting problems quickly and optimizing the delivery of building services reduces energy bills and contributes to the type of well-run facility that keeps occupants productive and satisfied with their space.
One of the most challenging aspects of managing a facility and identifying energy savings can be when everything seems to be going just fine. But in reality, your equipment may be running less than optimal when control strategies or overrides create energy inefficient situations.

For example, on an air handler there is a situation where you could be simultaneously heating and cooling the air. To the tenants, the comfort is fine but at the energy meter, it's very wasteful. Traditionally, the facility manager would have to manually review tons of historical data to catch this. With automated analytics, a rule could be created to detect when a hot water valve and a cold water valve are both open simultaneous heating and cooling). With the use of tags, the analytic routine will automatically bind to points on multiple pieces of equipment to look for anomalies such as this.
To read more about all of the payoffs, click here and download the complete whitepaper.