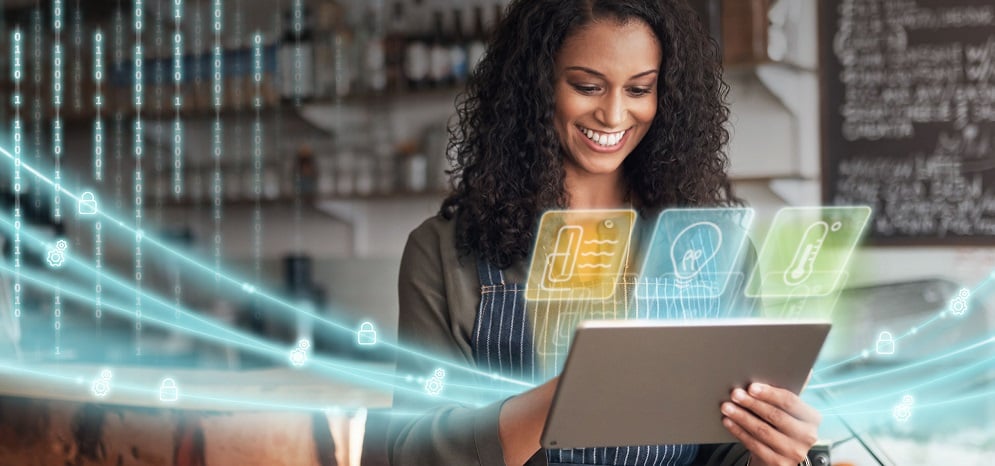 The way buildings are controlled has evolved from simple to smart in just a few decades. Technology developed towards the end of the 20th century and certainly over the last two decades has given us the systems, software, and infrastructure to create Building Automation Systems that are truly integrated and interoperable. This technology has made the lives of large commercial building owners and facilities managers much easier.
Unfortunately, this evolution of Building Automation Systems (BAS) has been designed primarily for large buildings. Due to the relatively high cost and complexity of automation systems, and the way they are managed, small buildings have been left out of the picture in the BAS world.
Small buildings don't warrant enough maintenance budget so are operated using the most basic controls. When you consider the number of buildings across the UK and other European countries, you realise that large, complex buildings are only a small percentage of buildings in the world. If we take a business or industrial estate as an example, we expect to see a few large buildings, but there will certainly be many more small ones. The big boys of the estate have been reaping the rewards of an optimized BMS while their smaller cousins have been overlooked.
From macro to micro
The good news is change is underway. With 40% of total energy consumption coming from non-residential buildings, people have become more conscious of energy and maintenance costs. The advantages of installing BMS-type technology in small buildings has become more compelling. It has been a gradual increase rather than a big bang transition. Smarter connected controls and ones that integrate systems for small buildings are becoming more attractive than separate, basic stand-alone "siloed" controls. After all, why have separate "dumb" controls for scheduling the lighting, heating, and air-conditioning when it would be easier to manage these functions as a single system? Plus, since most buildings are now internet connected, there is also the option to manage them remotely, which offers multiple benefits
The factors driving the desire for better controls fall into two categories: the need to improve the operational efficiency of such buildings, and regulatory demands to improve energy efficiency; for example, the UK government has set legislation for net zero emissions across the UK's building stock.
Cost and customers: drivers for change
Let's look at a clothing retail chain as an example. It has numerous stores located across the country, and perhaps internationally. The premises are generally small, but they all have heating, air conditioning, lighting, electrical meters, plus – importantly – they're also going to have an energy target to meet. This means they must think about managing the building equipment efficiently and in a consistent way.
Then there's the customer. The retailer wants to ensure the inside temperature of their stores is optimal during store opening hours for the comfort of their customers. Too hot and they'll want to leave; too cold and they'll want to leave – we're a fussy bunch when we're shopping. The retailer wants to be able to accurately monitor (and preferably control) the temperature centrally, rather than rely on local managers to adjust temperatures.
Finally, there's maintenance and operational costs. If the store encounters a problem with the lighting or air-conditioning, then the chain's facility manager is duty bound to initiate a site visit to diagnose the issue. This is expensive and time consuming. If they can connect to site remotely, fixing the fault suddenly becomes cheaper and quicker.
Some of these smaller sites will already use conventional BMS technology, but the cost associated with using a systems integrator – a controls specialist technician makes such deployments too expensive in most cases. The retailer must consider the ROI and typically operates with a quite short payback period criteria (less than 2 years), plus most such premises are on relative short leases, so the retailer is not inclined to spend much. What's needed is a system that's much easier to install and maintain so the retailer can employ their usual electrical or mechanical contractors (who must visit site in any case).
Why big isn't always better
Enter the FIN microBMS; a plug-and-play-solution for efficient small building management. Such products have been attempted before, but their success has been limited by the software capabilities. It requires very sophisticated software to make things easy to use – consider the iPhone for example.
Here's the difference: when using J2 Innovations' FIN Framework as the basis for a FIN microBMS product, you have the full sophistication and flexibility of a BMS-type solution with the simplicity and configuration that more basic controls deliver. The use of a simple step-by-step configuration wizard to install the microBMS makes a clever system work without the need for specialised expertise. Also, FIN's Edge2Cloud remote access service eliminates the complexity normally associated with achieving connectivity on small sites. It's a win-win; proper BMS functionality without compromise coupled with a simplified set-up capability with remote connectivity to provide benefits without complexity.
Simplicity and security
If we go back to our retail chain example, we know that it will have an IT department at Head Office that has strict policies about what you're allowed to connect to its IP network. They will have multiple sites connected to their network that are all centrally managed and the thought of connecting an automation system will undoubtedly throw up an argument about security vulnerabilities.
J2 Innovations' solution, Edge2Cloud, uses a highly encrypted certificate authenticated connection so a device can be connected to a corporate network securely - it pushes the connection out from site to the cloud so there are no firewall vulnerabilities. Edge2Cloud also simplifies set up and configuration.
A bright future
microBMS is aimed at a very significant but under-served segment of the market. It is long overdue to be addressed because in the future, all buildings will have intelligent controls in them. We see this happening already with devices such as smart thermostats in homes. Market penetration is currently relatively low, but they are going mainstream. Likewise, the small commercial buildings market will also be increasingly connected using microBMS. It's an emerging part of the market with increasing importance.
There are products that already exist in this space, but they have compromises and limits to what they can do. They're not particularly dynamic and not great at integrating multiple device types. They tend to be siloed and focused on just controlling one type of equipment (air conditioning, or heating or lighting) and none of them providing any trend monitoring or utility metering. With a microBMS you have all of them in one system, on one connection.
Be prepared.
What I predict is a gathering momentum in the microBMS market. As multi-site operators like local authorities, restaurant and convenience store chains start to adopt this technology and monitor its effectiveness, I envisage the mechanical & electrical contractors as well as the equipment suppliers facing increasing demand from customers for smarter controls.
J2 Innovations, who created FIN Framework, can help controls manufacturers and other companies seeking to address this market segment create a FIN-powered microBMS products at low cost. These products will come to market faster with less risk than is possible by developing in-house. If you are an OEM and like the sound of differentiating yourself from the competition (and this market will become increasingly competitive), then let's talk. Our software is proven and customisable to specific requirements – it's the brain behind the hardware body!
Book a free demo of our new FIN microBMS if you want to see for yourself how small can also be smart!