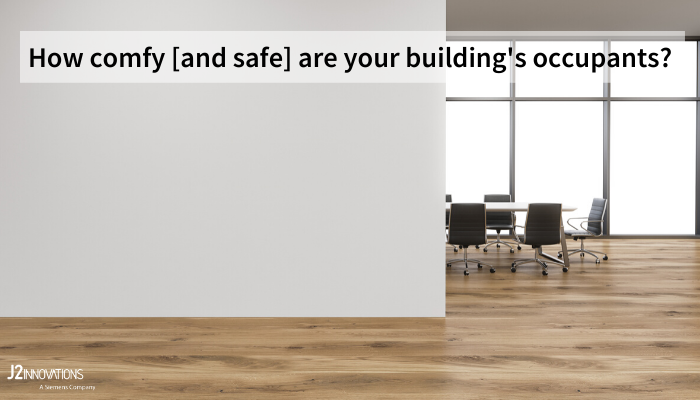 In our ever evolving industry, there's a new challenge that comes in the form of occupant comfort. COVID-19 has forced us to change the way we think about space. Building owners around the world are facing the reality that their spaces are at half capacity or less and in some cases not at all.
In Part 1 of this series we explored Occupant Comfort, its importance, and the factors that play into this metric. In Part 2, we discussed how building automation systems can measure and increase occupant comfort. In Part 3, we will look at new factors that need to be considered in order to maintain the comfort and safety of occupants during this pandemic.
As we've said in previous blogs, the purpose of a building is to provide a safe, secure, and healthy working environment. Right now, as we face the challenges of stopping the spread while safely returning to work, building owners and operators have a lot to consider with regards to the safety of occupants. Occupant comfort has a whole new meaning as building owners need to take every precaution necessary to ensure their buildings are running optimally while also keeping people safe and comfortable. Here are some factors to consider.
Rethinking the use of space
The way we work has already changed, and will likely never go back to the way it was. Companies are going to have to offer more flexibility with regards to remote working and flexible hours. Will you forego your open office floor plan meant to maximize space and bring back the cubicle? Or, will you utilize technology like hot desk management applications to allow workers to reserve their time and space? However you do it, you're going to have to monitor the total number of occupants in your building at all times.
By incorporating sensors into your building, a BAS system can help manage and monitor the use of space. Sensors can easily count the number of people entering the building or occupying a room and alert a building manager when it has reached capacity. Technology like the Comfy app app can also be integrated to allow employees to check in and help building managers see space analytics in real time. Since sanitation is also a huge concern, sensor technology and space analytics can also help inform a facility manager of the areas that need to be cleaned and sanitized.
Making adjustments to HVAC
One of the things we know about the spread of the virus is that it is primarily transmitted between people through respiratory droplets and contact routes. Because of this, there are factors that need to be considered with regards to your building's HVAC system.
First, you will need to prevent the recirculation of contaminated air that may be occurring in your HVAC already. Recirculating extracted air into fresh air is a normal practice for HVAC to reduce energy consumption, however it could be dangerous now. You'll also need to check the ventilation levels and potentially increase them from low to high to ensure the air is being replaced with fresh air at a faster rate.
ASHRAE has released a thorough set of resources for COVID-19 that can help answer questions. The EPA also has a resource page that addresses indoor air concerns and Siemens has a checklist of actions and considerations that can be consulted as well.
Facility managers and technicians should also be considered with regards to safety. Technology like FIN's latest Edge2Cloud would allow them to safely monitor and manage the building remotely, as well as give remote access to necessary parties so adjustments can be made.
Changing the way we interact with the building
Another valid concern with regards to stopping the spread is how we interact in spaces. Opening a door to enter a building or space, pushing the elevator button to get to your floor, touching the faucet to wash your hands, reaching into the employee fridge… There are a number of instances in which contact has to be made in common areas. Installing automatic doors, faucets, and toilets are one solution. But another is leveraging technology to empower occupants to interact with the building via a mobile device. Operating blinds, controlling the lights, and setting the room temperature from a mobile device are already options for a BAS system. During these times, there are other ways we interact with the building that we need to be considered like operating the elevator or taking payments in the cafeteria.
Providing comfort
Beyond optimizing temperature, light, and air flow, there are other wellness aspects that should be considered like the aesthetics and overall environment. In a world where stress is high, there are a lot of creative approaches to lowering stress levels and creating a more calming space for occupants. One great example is the use of sensory booths in hospitals as a way for workers to decompress. Solutions that can reduce noise and create a calmer atmosphere are going to be more important now as tensions are high.
Making considerations with regards to biophilia (bringing natural elements into the built environment) can help. Smart lighting, for example, can control the spectrum of light emitted and be adjusted to mimic the natural cycle throughout the day. There's also smart glass that can tint on-demand, allowing occupants to experience the natural world outside or block the brightness and heat from the sun when necessary. These considerations can make all the difference to building occupants, making the time they spend in your space that much more comfy and reassuring.
Smart Buildings are the future and can give building owners and facility managers the power to leverage technology and better manage occupancy and comfort. Many of these solutions can be built quicker and faster on a framework like FIN. With the power of Edge2Cloud and the open and extensible framework of FIN, OEMs can easily build features to better manage occupant comfort with consideration to social distance.
See here for more on building comfort